Customer: EuroAuto
Location: Saint-Petersburg, Russia (2018)
Products/Services used: P90 for both pallet storage and picking, Multi-tier.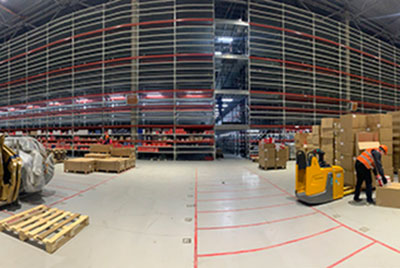 EuroAuto is a federal franchise network of enterprises; shops and warehouses for auto parts, points of delivery for orders and service stations.
Today EuroAuto includes dozens of stores of new and used spare parts, car dismantling stations and service stations in St. Petersburg, the Leningrad Region, Moscow, Vyborg, Veliky Novgorod, Krasnodar, Arkhangelsk.
Our Solution
In 2015 the company's warehouse located in Parnas, the industrial region, spanning an area of 36 thousand square metres, was completely destroyed by fire. All racks, shelves and structures were burned down.
By 2018, the company managed to restore the warehouse. Since EuroAuto had been working with CONSTRUCTOR RUS LLC for a long time and were confident in the reliability of the storage systems we produce, they wanted to install storage systems that they had successfully used previously in other warehouses.
CONSTRUCTOR RUS LLC proposed a solution based on European production for the EuroAuto warehouse, using the latest developments in the field of multilevel storage systems (Multitier).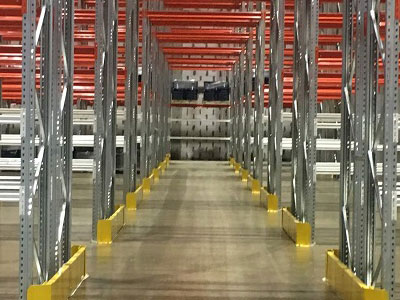 The Result
The solution for the installation at the EuroAuto warehouse in Parnas was as follows:
• Multi-level mezzanine - 2800 m2 (on the floor)
• Pallet storage and manual selection system based on front shelving.
With the help of Constructor mezzanine construction, this allowed EuroAuto to maximise storage capacity and increase warehouse efficiency.
About EuroAuto
EuroAuto has been present on the market since 1994. Now it is known as a reliable partner and supplier of spare parts for 9,000 stores, service stations and motor transport enterprises of the Russian Federation and operates an online store for 4 million spare parts with more than a hundred points of delivery in the regions of the Russian Federation and the possibility of delivery to any location in the Russian Federation, Belarus and Kazakhstan.
EuroAuto is the official representative of more than 50 manufacturers of automotive components.
Today, the following operate under the EuroAuto brand:
22 stores and auto dismantling sites in Moscow, St. Petersburg and Veliky Novgorod.
15 service stations in St. Petersburg, including one specialized service station for trucks, and 1 service station in Moscow
Online store of spare parts for foreign cars with distribution points in St. Petersburg, Moscow, Veliky Novgorod, Rostov-on-Don, Yaroslavl, Nizhny Novgorod, Novosibirsk and Vologda
A network of warehouses at each store and a central warehouse in St. Petersburg.