Customer: Household Logic 
Location: Saint-Petersburg
Products/services used: P90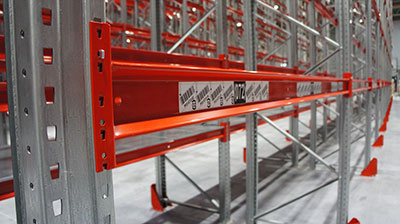 Business Need
Taking into account the needs of the market the number of regular customers increases every year.
While developing its business the company planned to expand its warehouse space in St. Petersburg and built a new modern distribution center for household goods, utensils, decor, kitchen and home accessories.
Our Solution
In the course of the joint development of a design solution by CONSTRUCTOR RUS an optimal and at the same time universal storage system of the P90 series was proposed for placing goods on pallets of various sizes and weights.
To organize the selection a lower level of shelving with galvanized metal stacking shelves was selected, which are able to withstand the weight of the goods and effectively assist in picking orders.
The design of pallet racks CONSTRUTOR RUS at the request of the buyer was painted in the client's corporate colors.
To ensure maximum personnel safety, all load-bearing racks of racks are equipped with protective elements, and the pallet storage area is separated from the rest of the warehouse with mesh fencing to the full height of the rack - 10.5 meters.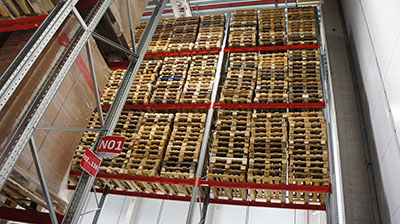 The Result
A comprehensive project was implemented for the supply and installation of frontal pallet racks of the P90 system with a safety margin of at least 1.4 and a complete set of protective structural elements.
The rack system provides accommodation for more than 12.5 thousand pallets with the possibility of processing high-rise equipment and equipment levels inside the avenues of the storage area.
For the organization of additional locations for the placement of goods, an additional volume of beams was produced, which made it possible to further increase the storage capacity.
The flexible approach and taking into account the adjustment of the deadlines for the premises of the warehouse for installation allowed us to take into account all the requirements of the customer on the timing of the project.
About Customer
Household Logic is a modern logistics company. Provides a full range of logistics services: acceptance, processing, custody, assembly of client orders (including the difficult conditions of customers), piece marking, assembly production. Specialization - the field of dishes and household goods. In its work, the Company uses advanced logistics technologies, modern equipment and world-class software.