Customer: Santekhkomplekt
Location: Vidnoe, Moscow region, Russia.
Product/Services used: P90, Shuttle
Business need
Santekhkomplekt is a company that offers everything needed to build or refurbish a project. It prides itself on stocking all the tools and materials which plumbers, heating engineers and other specialists in the related industries need for construction, repair and reconstruction for every size of project, from a single room to a complete house, commercial or industrial unit.
As a result the company keeps in stock more than 50,000 items of products. These come from more than 500 domestic and foreign manufacturers and suppliers throughout Russia. The company unites 23 trading and purchasing enterprises in Russia and abroad, five manufacturing enterprises, an extensive distribution network, a large integrated warehouse and a transport fleet.
With the soaring cost of warehouse space, Santekhkomplekt wanted a highly efficient system that allowed them to fully utilise all available space on their warehouse in Vidnoe. After careful consideration, they chose Constructor Rus to design, supply and install a system for them.
Constructor Rus Solution
The Constructor Rus team started by analyzing the type and size of the huge range of stored products. They also studied the daily operation of the warehouse, and concluded that pallet racks with the Shuttle system would be the ideal solution for Santekhkomplekt.
Shuttle pallet racks have semi-automatic loading and unloading operations, similar to deep racking systems. Pallets are loaded onto a mobile platform powered by a battery that moves pallets inside a rack. All operations on working with pallets inside the rack are performed by a remotely controlled mobile platform. The pallet is loaded onto the rack and removed from the rack by a standard forklift.
Shuttle pallet racks not only optimize storage, loading and unloading, but also eliminate the need for special forklifts. Another advantage of such a system is that its use as semi-automatic equipment reduces human error and the risk of damage to loading equipment and racks.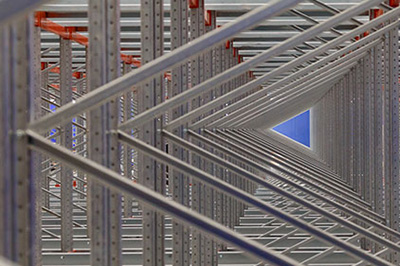 The installation went smoothly, and includes:
Europallets, maximum height 1800 mm.
Maximum weight 1000 kg
3 pallets stored at height
28 lines
17 pallets deep
1400 pallets
2 hybrid radio-controlled mobile platforms
The Result
"The project was implemented in accordance with all agreements, starting from the design stage and ending with the equipment installation and setup. As specialists Constructor Rus have extensive experience in installing semi-automatic equipment for storage systems, such as printed pallet racks with the Shuttle system. This system is the best solution for customers looking for an effective solution to work with a large number of SKUs in large volumes. Also, these systems allow us to implement the principles of FIFO and LIFO".
About
Santekhkomplekt was founded in 1992 as a trading and purchasing enterprise specializing in equipment engineering systems for residential, commercial and industrial buildings.
www.santech.ru