Client: ALTERNATE GmbH, online provider for hardware, software and consumer electronics
Location: Linden / Germany
Products / Services: P90 Pallet Racking, two-storey steel platform, interior fittings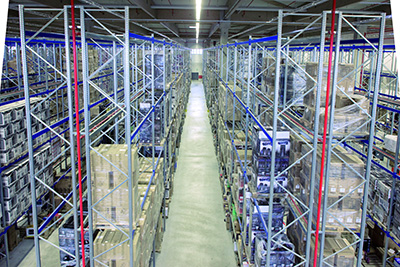 The requirements
Alternate GmbH in Linden, Hessen, is one of the top 10 e-commerce companies in Germany. The product range has grown steadily over the years and now comprises more than 50,000 products. Alternate sells its products through two local stores and webshops in Germany and other European countries.
As part of an expansion project with future potential, a storage area of 8,000 m2 and offices of 1,800 m2 are to be built in Logistics Centre II on a total floor space of 9,800 m2. In addition to the function of large equipment storage and container handling, the storage area will also offer a separate area for technical service.
The separate office areas for service and administration must be subdivided using a suitable interior design system. The greatest challenge here is a tight schedule as well as exact coordination with numerous shell construction trades.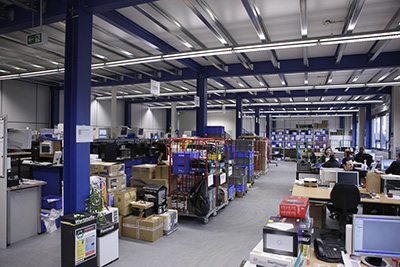 The Solution
Via a total of 17 truck gates, large electronic devices ranging from laser printers to flat-screen televisions are delivered to and from the new Logistics Center II.
Flexibility and short response times are the challenges facing the new static pallet high-bay warehouse.
P90 Pallet Racking with manual picking
In a total of 11 aisles of the new static pallet racking, 10m high with about 10,000 pallet spaces, the goods are picked manually with hand stackers.
The order processing is fully automatic.
The stackers are equipped with laptops and communicate with the warehouse management system via WLAN.
The employees thus have direct access to current orders and are continuously shown the next item to be picked.
The picking is booked via hand scanner. Once the delivery is complete, the delivery note and label are printed automatically.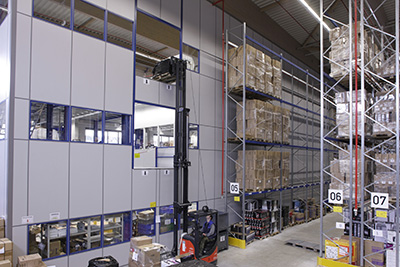 Steel stage two-storey
Dexion has installed a two-storey steel platform, with a total of 14m high partition wall system directly next to the pallet rack warehouse.
Distributed over a total of three levels (325m2 per level), the hardware is checked and prepared for dispatch here on 975m2 of office and working space.
The smooth transport of goods is ensured by an integrated small goods lift for up to 100kg and pallet transfer areas on floors two and three.
Larger quantities of goods can be placed quickly and easily from the high rack directly onto the respective office level via the pallet transfer areas using a forklift.
Interior finishing system for the office complex
The neighbouring 1,800 m2 office complex for administration and service was realised and equipped with the interior fittings system from Dexion.
Various wall systems were installed. The special eye-catcher is the partition wall of the MetaLine system with double glazing and aluminium frame, timeless and very high-quality.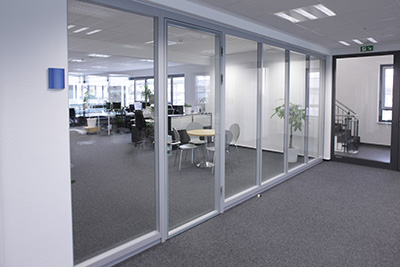 The result
A modern logistics centre with development potential for future growth has been created on a total area of 9,800 m2.
A 10 m high P90 pallet racking system realizes bay loads of up to 8,000 kg. On a total of 10,000 storage spaces, 50,000 different products are stored, ordered today and delivered the next working day.
A two-storey steel construction platform creates sufficient space for goods inspection and dispatch preparation on a total of three levels with 325 m2 each. A modern office complex has been created on 1,800 m2 for administration and service.
"Short-term delivery capability, high implementation speed and absolute adherence to delivery dates", says Markus Bau, Logistics Manager ALTERNATE.
"All in all, we had a full four weeks for the assembly of the pallet racking system and five weeks for the platform and partitions, so clear agreements and adherence to deadlines are particularly important", Ulrich Vellenzer, Sales Engineer at Dexion. "All in all, everything went really well", concludes Markus Bau.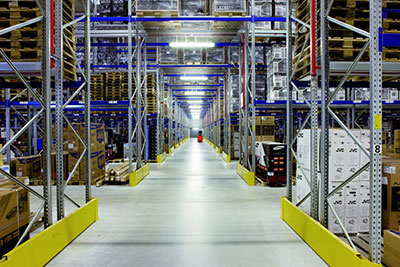 About ALTERNATE GmbH, Linden
As one of the ten largest e-commerce companies in Germany, ALTERNATE has stood for service, competence, experience and innovation for more than 25 years. ALTERNATE is also a leading online shop and competent consultant in the areas of IT, consumer electronics, household, garden, outdoor, tools and toys.
ALTERNATE sells its products to private and business customers via two local stores and the TÜV-certified web shops both in Germany and in other European countries. More than 800 employees take care of the customers' orders, wishes, inquiries and problems every day and stand for a high service quality and excellent customer satisfaction.