Dexion's commitment to quality underpins everything we do.
From the first interaction with potential clients to providing aftercare and service, our top priority is to provide our customers with what they want. And while every customer has different needs and expectations, the one universal requirement is quality.
Dexion: a fully accredited ISO9001 company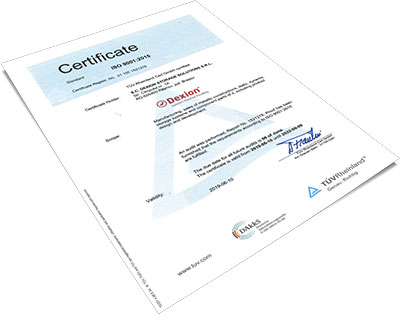 The ISO 9001 standard is defined by the International Organisation for Standardisation (ISO), a worldwide federation of national standards bodies from 156 countries.
Dexion takes quality to the next level. For us, achieving the coveted ISO 9001 accreditation is just the starting point.
In addition to regular monitoring through internal audits and an annual external audit by an independent body, we have taken the seven Quality Management Principles (QMP) that our system is based on, and created key points to highlight what these mean in practice:
QMP1Customer Focus:
We dig deep to get to know our customers and their requirements.
We measure customer satisfaction to ensure needs have been met.
QMP2Leadership involvement:
We ensure all levels of management lead by example
We assess the impact of day to day activities that contribute to our goals.
QMP3 Engagement:
We empower and engage the workforce to help them create value.
QMP4 Process:
We test our processes to ensure they are easy to understand and to implement.
We always look for better ways of doing something.
QMP5 Improvement:
We put in place systems and processes that allow us to react quickly to change.
We evaluate our objectives to ensure they are still relevant, in every situation.
QMP6 Evidence:
We collect and collate data to inform us how well a process is functioning, and what improvements could be made.
We ensure our record-keeping is robust enough make evidence-based decisions.
QMP7 Relationships:
We give all interested parties the same respect, whether they are customers, suppliers, or employees.
We take any necessary steps to improve our relationship management across the board.
Testing... Testing
It's not just our processes that are examined. Our products are too. The Dexion in-house quality control facility, which is fully regulated by the European Norm EN15512, endlessly tests components from across the entire product range, to ensure that safety remains uncompromised.
Find out more about the Dexion Test Lab
From the moment a new product is conceived, an existing one is updated or a new service is introduced, our ongoing commitment benefits everyone. As well as making us a better company, it helps us to deliver the solutions that will enable customers to grow their own businesses. In fact our devotion to quality has been instrumental in Dexion becoming recognised as a leading supplier of storage solutions in Europe.