Case Study Overview
Customer: Augsburg International
Location: Romania
Products/Services used: Mezzanine level, and Multi-tier Shelving solution
Business need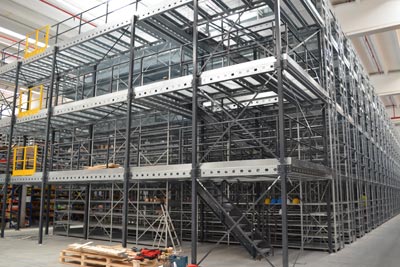 Augsburg maintains a large stock volume at all times, but products were not stored in the optimum configuration; presenting a barrier to running an efficient business and potentially hindering business growth.
Augsburg recognised moving to a more efficient warehouse configuration would make its process more efficient and create a platform for further growth.
Dexion solution
Dexion was chosen to partner with Augsburg on this project due to its international reputation, vast experience in this field, and the operational efficiency of its proposed redesign of the warehousing.
Alongside Dexion's standard racking and shelving systems, the highlight of the project was a multi-tier structure with mezzanine floors, inside the warehouse. With its vast experience in delivering storage solutions, Dexion also included bespoke accessories to meet Augsburg's specific needs; special pallet gates to help transfer palletised goods to the mezzanine levels, and its own internally-manufactured stair and railings system.
Benefit of the Dexion solution:
Cost-efficient and speedy implementation.
Full use of vertical space in warehouses.
Guaranteed fast, efficient and accurate order performance across all product lines.
No interruption to existing high-volume business while expansion took place at the same site.
Achieved maximum storage capacity within the building via mezzanine level extension, along with more efficient pallet-racking and shelving systems.
Offered firm foundations for a reliable logistical supply chain.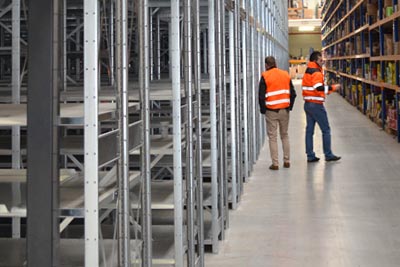 The result
Dexion delivered high quality solutions that have increased Augsburg's warehouse efficiency, while offering better ergonomics for its staff.
This solution was extremely cost efficient and the delivery time was quick.
About Augsburg
Augsburg International is one of the main importers and distributors of automotive spare parts, lubricants, garage equipment and accessories. With 320 employees, a fleet of 150 vehicles, a central warehouse and 28 regional warehouses, it's a market leader in original parts and after market body parts in Romania, with over 8 million spare parts in stock at any one time. www.augsburg.ro