Case Study Overview
Customer: Bakker Transport and Warehousing
Location: The Netherlands
Products/Services used: Mobile Pallet Racking (MOVO)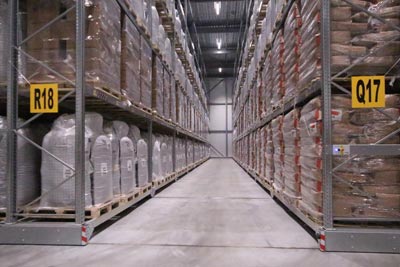 Business need
Bakker Transport and Warehousing was experiencing strong business growth and it soon became clear a new distribution centre was required to ensure the company could sustain this expansion and maintain its reliable logistics network.
Dexion solution
Bakker had partnered with Dexion on the fit-out of its existing distribution centre, which had operated effectively for 17 years, so it was a natural decision to partner with them again for this new project.
Unlike most projects, Dexion first devised the optimum system for Bakker, and the building itself was designed around it. It's a high building and the Mobile Pallet Racking (MOVO) system installed makes use of the vertical and horizontal space. The MOVO system reached almost to the ceiling and delivers a total of 12,500 pallet places.
As before, Dexion was able to offer a solution that completely met Bakker's needs. It was implemented efficiently and cost-effectively, giving Bakker the capacity for its current needs and the ability to expand further in the future.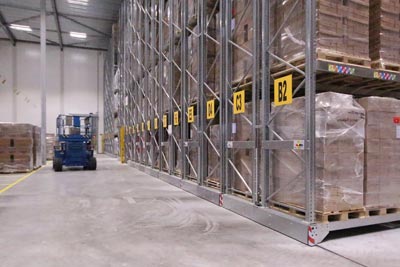 Benefit of the Dexion solution:
Optimum storage solution devised, offering full use of the horizontal space in the warehouse.
New building ensures Bakker can meet existing business needs with capacity for further growth.
Cost-efficient and speedy implementation.
Guaranteed fast, efficient and accurate order performance across all product lines.
Achieved maximum storage capacity within the building.
Offered efficient base for a reliable logistical supply chain.
The result
"Bakker had an extremely good experience with the Dexion solution installed 17 years ago. When we made the strategic decision to expand, it was clear to us that we should again select a reliable mobile pallet-racking solution from Dexion." - Anne Baker, Owner, Bakker Transport and Warehousing
About Bakker Transport & Warehousing
Bakker Transport and Warehousing is an advanced international transport company specializing in 'dry', cooling, and freezing storage.