Customer: Cinoco SA
Place: Nijvel – Belgium
Products supplied: Narrow aisle pallet racking including pick locations, underpasses and protection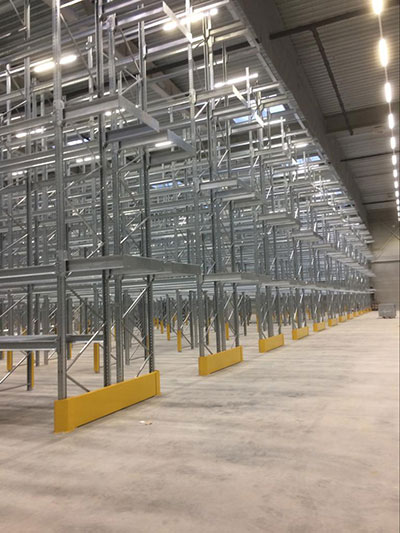 CINOCO has established itself as a leader in the distribution of wines and spirits in Belgium. After more than a century of being based in Brussels, they have decided to move into a new building in Nijvel due to increasing traffic in Brussels. Nijvel is only a 15-minute drive away and much more accessible.
The Requirement
The new building in Nijvel consists of a depot of 6,000 m2 and 800 m2 meters of office space. The new warehouse was designed to maximise storage capacity, while maintaining ease of access for order picking, coupled with a delivery service for small quantities.
Our Solution
Dexion proposed a storage solution of narrow aisle pallet racking, also called high-rise racks, with built-in pick levels, perfectly matched with Crown (supplier of the lifting equipment).
Narrow aisle pallet racking are pallet racks with a narrower aisle than conventional pallet racks. For narrow corridor construction, a special lifting device is required, a narrow corridor truck (VNA Truck).
The narrow aisle pallet racks are equipped with underpasses. This does not mean that you do not have to drive or walk the entire aisle, but you can switch aisles halfway. The underpasses are equipped with mesh grilles to prevent the passage of pallets or articles.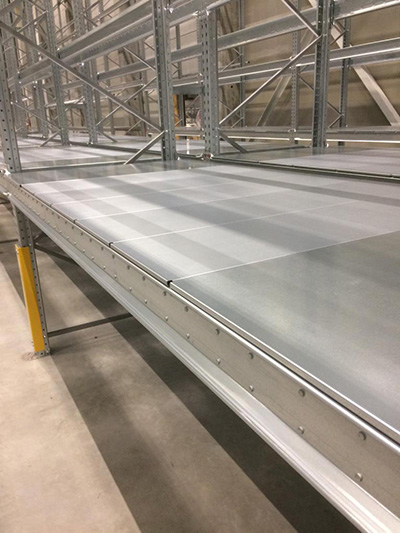 The first beam level is slightly higher and equipped with steel shelves. In this way, pick locations are created at a higher level, so that one can easily and ergonomically pick orders.
So-called Pick & Deposit stations are placed on the heads of the frames. This creates additional pallet locations.
The narrow aisle pallet racks come with Tox beams. This beam has a punched claw, so there are no welding seams and gives extra strength so no hairline cracks can occur.
Dexion's pallet racks are equipped with foam style protectors, in order to prevent damage to the carriage.
The outer sides of the frames are protected with yellow frame protectors and the sides at the lower passages are equipped with a guardrail. In this way, Dexion has ensured that the risk of collision damage is as limited as possible.
The Result
The narrow aisle pallet racking at Cinoco yielded a total storage capacity of approximately 8,000 pallets and with 1,000 running meters of pick levels.
"Dexion met our expectations throughout our project (study, advice and pricing) in compliance with the announced deadlines. The cooperation with the various players has been excellent," said Mr Nolet, CEO of Cinoco.
About Cinoco SA
Since the establishment of a distillery in 1691, Cinoco's history has spanned 10 generations.
It all started in 1691, when Jan Lucasse Nolet, originally from Bruges, founded a distillery in Schiedam, The Netherlands.
9 Generations later, Cinoco (Charles Ivan Nolet & CO) has become the Belgian leader in the distribution of wines and spirits, combining modern management and traditional values of a family business.