Case Study Overview
Customer: Domino's Pizza
Location: The Netherlands
Products/Services used: P90 Pallet Racking, Racking Drive-in Racking, HI280 Angled Shelving
Business need
Domino's Pizza was experiencing sales growth in both the Netherlands and Belgium, and its existing distribution centre was unable to expand to meet the expansion the business was enjoying.
In order to meet these demands of growth, Domino's Pizza was seeking a new distribution centre that was better able to handle its increasing volume.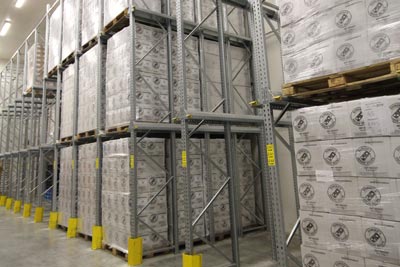 Due to the nature of Domino's business, there are three 'climates' inside its distribution centres: freezer unit, cold, and dry store and high picking frequencies must be achieved during peak hours. Domino's has a large variety of products – with heavy (dough and sauces), light (spices), fresh (vegetables), dry (clothing, gadgets) and volume (pizza boxes), which all need to be order-picked and distributed from the distribution centres.
Dexion solution
As part of its project planning to relocate its distribution centre to Gorinchem, Domino's chose to partner with Dexion, due to its ability to interpret their requirements and offer enhancements to the project plan.
By partnering with Dexion, the new distribution centre was supplied with an extremely effective solution that allowed Domino's to efficiently handle its order-picking process within its challenging business requirements.
Benefit of the Dexion solution:
Able to meet the exacting business needs of Domino's, covering three climates as well as a variety of product types.
Project was enhanced with Dexion expertise, ensuring the solution was as efficient as possible.
Smooth relocation allowed for expanded capacity and ensured business growth could be sustained.
Selecting Dexion as a partner in this project ensured Domino's was able to benefit from their vast experience in distribution centre solutions.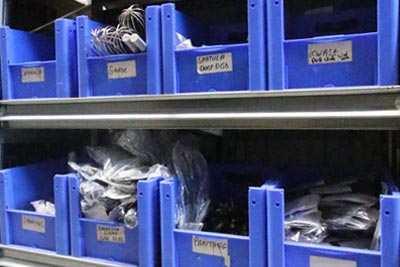 The result
Partnering with Dexion on this project was a huge step forward for Domino's. Dexion was able to bring its expertise to the table, which allowed the pizza giant to implement an extremely efficient new distribution centre.
About Domino's Pizza
Domino's Pizza is one of the world's leading pizza delivery companies. Its passion for hot, tasty, freshly made pizza has earned Domino's a fan base of loyal pizza lovers from all over the globe. www.dominos.nl