Case study overview
Name: Hedin Bil
Location: Multiple sites, Sweden
Products: Tornado lift system; vertical carousels; IPN Paternoster; TC2000 article management software.
Business need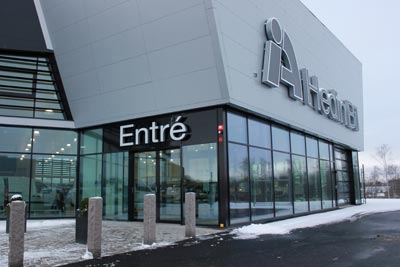 Hedin Bil is a leading car dealer in Sweden, with headquarters in Mölndal and sites throughout the country. Over many years, Constructor and Hedin Bil have developed a close collaborative relationship that means Constructor can provide the products and support systems that ensure the business' continued growth and success.
With Hedin Bil's growth comes an increasing focus on saving space, time and money –whether that's in optimising storage machines or providing new ones specifically for Hedin Bil's unique requirements. In short, while Hedin Bil's car halls are becoming larger, its warehousing has had to become more compact and efficient.
Constructor solution
Constructor has provided many highly effective storage solutions specifically for Hedin Bil, and therefore has a deep understanding of the client's needs. This has allowed us to develop a highly effective 'template' that applies not only to the storage machines we develop for Hedin Bil, but also to the TC2000 software that controls the automation systems.
This ensures whatever we provide fits perfectly with Hedin Bil's Kobra business system, which creates customer orders. From Kobra, key information feeds into TC2000 to ensure precise order batching and picking from Constructor's TORNADO lift system and Vertical Carousels – and from IPN Paternoster in Hedin Bil's smaller workshops.
The Result
"Constructor's expertise and deep understanding of how our business is evolving means we can trust them to provide the storage machines and related software that support our business perfectly." - Reine Jansson, Hedin Bil
About
Hedin Bil is one the largest car dealers in the Nordic region, with 2,600 employees and an estimated 75,000 vehicle sales each year. The business sells and services all kinds of new and used vehicles across Sweden and beyond – from small cars to large trucks. They also manage a vast inventory of spare parts, and provide other services such as insurance and financing. www.hedinbil.se