Case Study Overview
Customer: Hospital Dresden-Friedrichstadt
Location: Dresden/Germany
Products/services used: Horizontal Carousel (HOCA), Plastic Bins and Containers, HI280, Dexion WMS
Business need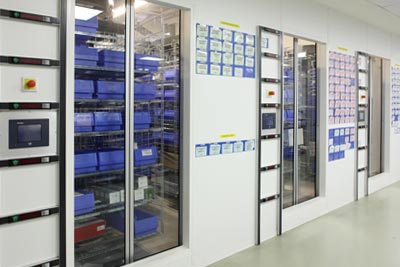 The pharmacy is responsible for supplying medical products, medical supplies and laboratory diagnostics for this busy teaching hospital in Dresden. With over 3500 separate items to search through, pharmacists and other staff were spending a great deal of time trying to locate the right items. When a new building to house the pharmacy was commissioned, the management wanted to install a system that would save time, improve security and reduce picking errors.
They asked Dexion to provide the solution.
Dexion solution
The Dexion team knew that an automated system worked well in this type of environment. With its relatively low ceiling height and need for 100% picking accuracy, the team recommended their horizontal solution (HOCA).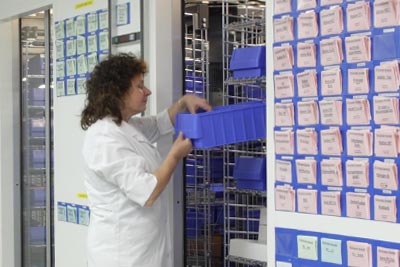 Dexion HOCA is a system that delivers the items to a picking station. An operator simply selects what is needed and a few moments later it is delivered to the operator at the front of the picking station. With no lengthy searches, guaranteed accuracy and improved storage capacity, it has proven benefits for both staff and management alike.
Items for picking can be stored in bins or boxes with ample space for articles of various dimensions and shapes.
HOCA Horizontal Carousel: in brief
Dramatically increases storage capacity through optimal use of the available room depth
Reduces operators walking and waiting times to a minimum
Avoids picking errors
Guarantees fast, efficient and accurate order performance
Achieves maximum storage density
To keep up with the constant demands from the rest of the hospital, four HOCAs were installed at the pharmacy together with the Dexion Warehouse Management System (WMS). This connected each of the HOCAs to the central host system, which allowed simultaneous operation of 15 orders by one operator at the same time.
A special glass door covers the access area of each horizontal carousel which can only be opened after the article is confirmed by Pick-by-Light-Display: an important security feature for this highly regulated and closely monitored sector.
The result
Dexion has significantly improved the efficiency of the pharmacy.
About Hospital Dresden- Friedrichstadt
The Hospital of Dresden Friedrichstadt is the teaching hospital of the Technical University of Dresden. From its four locations, it runs 45 clinics and institutes and has more than 3300 employees who look after 62,000 in-patients and 129,000 out-patients care each year.