Case Study Overview
Customer: J&A Asian Food
Location: The Netherlands
Products/Services used: Mobile Pallet Racking and Pallet Racks
Business need
J&A Asian Food was experiencing positive business growth and had reached capacity in its existing warehouse.
To expand its Chinese and Japanese restaurant supply operations further, and allow third-party product storage that fed into its supply chain, J&A Asian Food made the strategic decision to open a new warehouse.
The new base needed to meet its exacting business requirements, including compartments capable of storage at temperatures as low as -50 °C.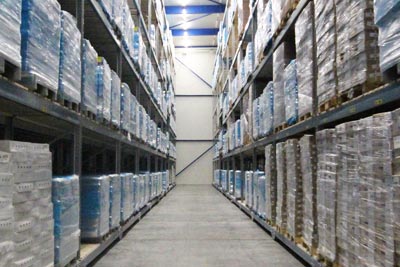 Dexion solution
J&A Asian Food selected Dexion as its partner on this project as the solution offered was capable of operating within the temperature ranges required, and also offered further configuration for optimal use of the space within the building.
The new building also houses a production space as well as meeting the objective to provide enough storage as to allow third parties to store their meat and fish products.
The frozen food storage compartment uses Dexion Mobile Pallet Racking 14 meters high and providing space for 3,000 pallet places. Since only one aisle is needed, the storage offers double the capacity and significantly lower energy costs.
Benefit of the Dexion solution:
Guaranteed fast, efficient and accurate order performance across all product lines.
Achieved maximum storage capacity within the building, due to Dexion's in-depth knowledge for optimum configuration.
Offered firm foundations for a reliable logistical supply chain, including the ability to store third party goods and add them into the distribution system.
Ongoing savings achieved due to the solution's energy efficiency.
Operates effectively within the temperature range of the warehouse.
The result
Partnering with Dexion ensured J&A Asian Food's business goals were met by the new warehouse. The implementation was smooth and the company are now fully prepared for further growth.
About J&A Asian Food
Under the same ownership as Dave Poultry processing in Nijkerk, J&A Asian Food supply Japanese and Chinese produce to restaurants across the Netherlands.