Customer: KJV
Location: Odense/Denmark
Products/services used: Narrow Aisle Pallet Racking, WMS
Constructor improves pick rate and stock control for KJV
Business need
KJV is one of Denmark's largest distributors, supplying a wide range of cutting tools, hand and machine tools, transmissions, and products for the metal and machine industry. The warehouse in Odense has 60,000 physical items spread over three locations.
Over the last 5 years, KJV has experienced rapid growth, especially within their e-commerce division. From a base of almost zero, online orders have now increased to more than one in every four.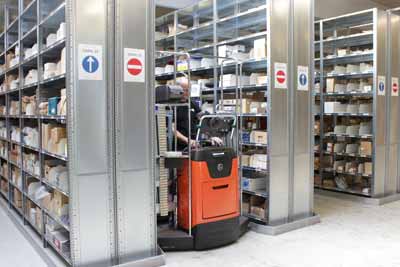 The company has experienced changes in buying behaviour, with customers buying more frequently but in smaller quantities. This, together with the demand for same day or next day delivery, meant they needed to upgrade their existing facilities.
KJV asked Constructor to determine how they could increase their pick-rate and respond to e-commerce growth. They also wanted to integrate a click-and-collect station into their warehouse, so that it was more transparent to customers that KJV was a physical warehouse.
A further consideration was that both shop and warehouse should be kept running during the upgrade.
Constructor solution
The Constructor team devised a two-part solution. The first was to upgrade from Pallet Racking to Narrow Aisle Shelving. This was designed specifically to increase pick-rates. The second part was to introduce a new Warehouse Management System (WMS) into their warehouse.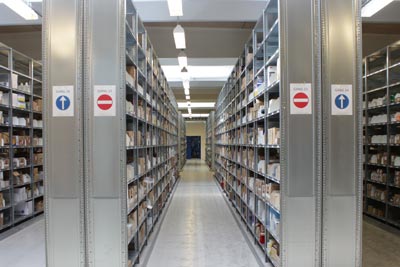 The software continually monitors stock levels, helps track orders and provides greater efficiencies within the warehouse. KJV has installed Horizontal Carousels for fast movers with small volume, Pallet Storage for bulky items with a frequent turnover, and Narrow Aisle Shelving for all other articles.
In addition, a large window was installed to allow customers the opportunity to watch orders being picked while conveniently collecting their orders directly from the warehouse.
The result
"We have been pleased with the progress and implementation of the project. There have been no major problems. It was a challenge to carry out the alterations to the building whilst keeping the warehouse and shop running. However, there has not been a single day where we have not been able to send out orders to our customers.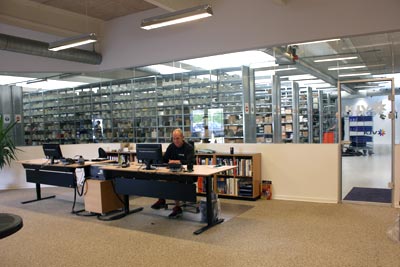 The starting point was that the warehouse should be made more efficient in terms of picking outside the carousels. We wanted more efficiency and more space. We have actually gone from having only limited storage space to having plenty. So I would say that we have succeeded very well." - Kristian Løftgaard, Managing Director, KJV.
About KJV
KJV was established in 1956 by Kurt Jørgensen Værktøj, hence the name KJV which, in its present form, was established in 1983 when part of the staff took over the company.
It services customers throughout the country as well as its own sales offices in Nykøbing Falster, Frederikssund, Sønderborg, Kolding, Aarhus, and Thisted. Approximately 65,000 packages are shipped annually.