Customer: LS Rainbow Kids
Location: Evere, Belgium
Products used: Mezzanine floor structures and partitioning walls
The requirement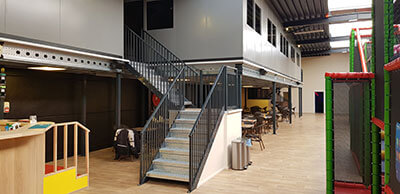 LS Rainbow is owned by Mr. Michel Straga who wanted to invest in a project dear to him. He wanted to create a friendly and pleasant space for children and their parents. This resulted in a beautiful and spacious indoor playground for children to enjoy.
Michel Straga came across the Dexion website during his search for a quality supplier for the solution he had in mind. Dexion took Mr Straga's wishes very seriously and went to work on a design that suited his wishes.
The solution
Dexion approached this project professionally and personally, even though this request was not standard. Dexion proposed a solution for various floor structures that are interconnected with the local spaces - including a bar, canteen, terrace and more.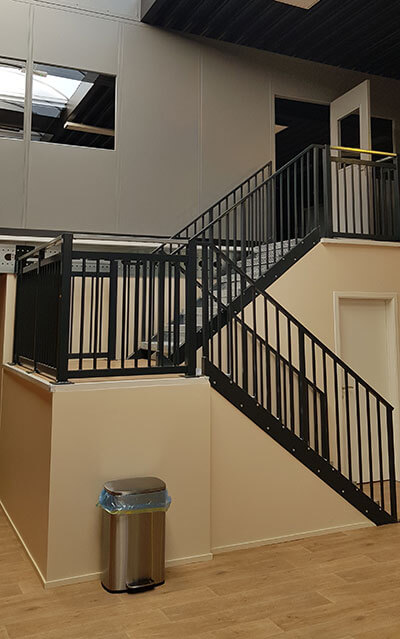 Dexion installed a total of 3 mezzanine floor structures of various sizes. When deciding the placement of the columns of the floor, the desired position of the play area had to be carefully considered, ensuring minimal space was lost.
The floor constructions are supplied galvanized as standard. The columns, stairs and railings are coated in the color RAL 7016. The coating ensures a durable finish of the product and protects against corrosion.
The floorboards consist of 38 mm chipboard, the bottom is white, the top is provided with C-dur de Luxe with anti-slip R10 and with a vinyl (wood finish).
The stairs have vertical bars to reduce the risk of falling through. The steps are also equipped with an anti-slip profile and the sides of the steps are closed, to prevent pinching of children's feet.
The floor constructions are of course also provided with a balustrade to ensure safety.
Partitioning walls have been placed on the floor structures, from which office units have been created. The metal partitions are designed for maximum customization options. The walls can be used as a free-standing installation or can be attached to an existing ceiling.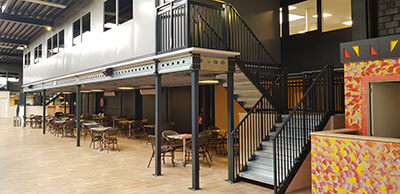 The partitioning walls have a monobloc concept, which makes panels and door modules easy to install and interchangeable. The panels and doors are composed of double-walled steel plate, filled with cardboard cells, which ensures sound absorption.
One partitioning wall is provided with insulated panels, for this purpose use is made of PUR foam. This not only ensures even more soundproofing, but also fire retardancy.
Through the windows, there is also sufficient light and a good view of the entire room. The space under the floor structures has been utilized by turning it into a terrace. This ensures optimal use of the space.
The result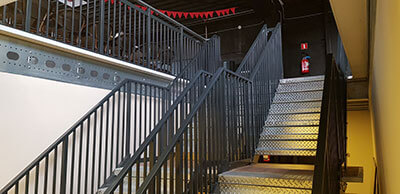 Rainbow Kids chose Dexion because of their sheer dedication and commitment to realizing Michel's vision for the project, right from the outset and all the way through to completion.
The mezzanine floor structures that have been supplied have different dimensions: 20,000 x 4,500 mm, 14,700 x 1,500 mm and 16,000 x 15,700 mm. This resulted in a floor space of approximately 363 m2 in total.
"We found a competent partner at Dexion and received very good advice. That is how we were able to realize our project and our dream." - Michel Straga.
Michel Straga wanted to start an ambitious project. After two years of thinking, researching and proposing, he was finally able to see his wish come true.