Name: Mora
Place: Maastricht, The Netherlands
Products delivered: Construction of mezzanine floor (freestanding floor)
The requirements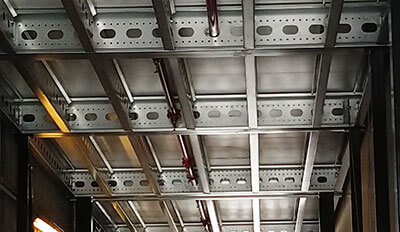 Mora is one of the longest leading manufacturers of snacks in the Netherlands. The Maastricht production site has been used since 1972 and their site is still growing.
Mora has recently completed a large-scale redesign at its current location. Part of this redesign was to ensure effiecent use and full optimisation of the available height throughout the building – including the space above the transport corridors.
The solution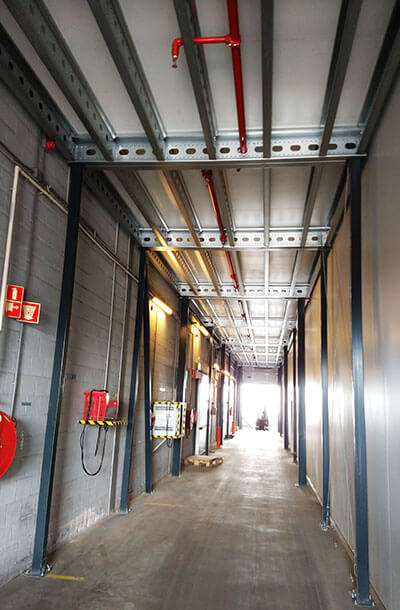 The challenge facing Mora was how to make the most efficient use of the space available above the corridors – without compromising the integrity of the many interconnecting doors or the concrete floor, which although could be subjected to a limited load, needed to be able to withstand a high load capacity. This presented an excellent opportunity to demonstrate what Dexion solutions are capable of.
Dexion pitched a sophisticated, custom-made design to fully optimize the height available. By increasing the number of columns and ensuring their carefully considered placement, the load ability of the beams and floor panels has increased to a carrying capacity of 500 kg per square meter. This capability proved to be one of Mora's decisive factor in opting for Dexion.
The floor is accessible via a steel staircase and a tilting gate has been placed at the pallet setup. This way, a forklift can easily place pallets or large goods on the floor. The tilting gate neatly closes the mounting area, ensuring the safety of workers and reducing the risk of falling the mezzanine.
The result
Dexion installed a freestanding entresol floor of 118 m2 is used for storage of machine parts, where the many transport of the production and logistics departments can go under.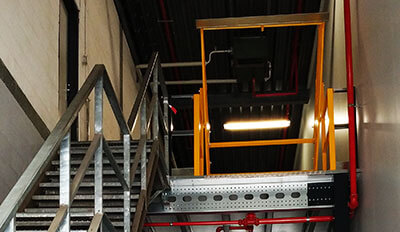 This ensures the maximum use of the height of the building, as well as ensuring optimal safety.
Despite the many connecting doors and the need for easily accessible amenities on the walls below, Dexion has been able to create a freestanding entresol floor that can be used as a mezzanine.
As a previous customer, Mora was already familiar with the high quality of Dexion warehouse racking and the dedication of the team. This, coupled with the fully bespoke design proposal, were the deciding factors to choosing Dexion again.
About Mora
Mora first began in 1960. Marcel Mourmans came up with recipes for the world-famous croquette in his father's neighborhood butchery. In 1972 Mora moved to a modern factory in Maastricht and in 1975 they decided to open a production site in Belgium. In 1995, Mora was acquired by an international company, Unilever. More than a decade later, Unilever decided to sell the company to Van Geloven, in order to increase its position within the Dutch and Belgian market.