Case Study Overview
Customer: Octapharma
Location: Stockholm/Sweden
Products/services used: MOVO Mobile Pallet Racking, Static Racking, Design
Business need
Octapharma is one of the biggest players in the international market for protein-based drugs. The company was founded in 1983 and now has approximately 6000 employees in 45 countries.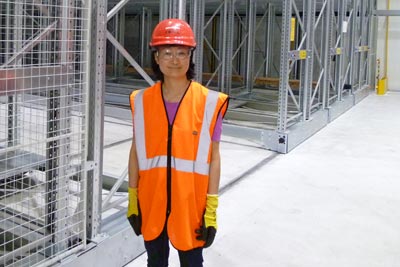 Storage of drugs puts great demands on safety, hygiene and temperature. Octapharma's warehouse needed to reflect this and be designed to meet the daily flow of goods and include areas such as incoming/outgoing goods, warehouse, cold and freeze storage.
These complex material handling requirements meant that they needed a partner who could offer the specialist technical advice to create an efficient and compliant facility. Constructor Sweden was the perfect fit.
Constructor solution
As they did not have any existing warehouse function, and no prior experience of choosing a pallet handling system, Octapharma's own team worked closely with Constructor's technical engineers to design the best system for them.
Each area had its own challenges. For example, the temperature in the freezing area has to be at a constant temperature of -30 degrees centigrade. The room is monitored 24/7 so that it always stays at that temperature. This also applies to the high bay storage (15-25oc) and cold room (2-8oc) which are also monitored constantly to ensure temperature consistency.
With regard to safety, the two outermost sections of the freezing storage area are shielded and interlocked. On the left side finished products are stored away from the raw materials, while on the right side the lower pallet places are shielded. These are used to store "quarantine" products.
The company had initially planned to install conventional pallet racking in the freezing area. This would have only given them 1000 pallet places. When Constructor introduced them to the idea of MOVO mobile racking, which would give them 1300 pallet places, they were delighted not only with the additional capacity but also the energy savings they would make.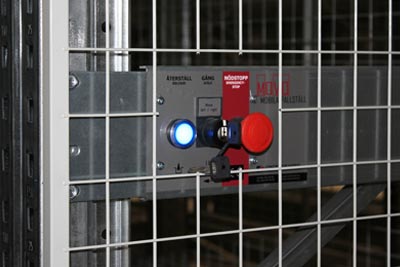 Another technical issue in the freezing storage was the escape route, the specification for which is mandatory. The distance from the last mobile rack to the back wall is 1.2 metre. Constructor mounted a rack with tunnel protection above the escape route, which means this extra space can also be used for storage.
For the racking, Octapharma chose a traditional rack solution with 3 metre wide aisles in the warehouse area.
In the high bay racking, raw materials, consumables and packaging materials such as salt, chemicals, hoses and glassware are stored. The cold area is for raw materials and finished products while the freeze warehouse will be used for the storage of raw materials, intermediates and finished products.
The result
"Our warehouse function was previously outsourced and we have wanted to bring it in-house for some time. Working with Constructor Sweden we have gained a number of advantages including obtaining better control of our warehouse logistics. Other anticipated benefits are reduced costs and improved conditions for our staff." - Sarah Lundqvist, Project Manager, Octapharma
About Octapharma
Octapharma Nordic AB engages in distribution and sales of plasma derivatives for treatment in coagulation disorders, immune disease, and intensive care and emergency medicine. The company is based in Stockholm, Sweden. Octapharma Nordic AB operates as a subsidiary of Octapharma AG.
Octapharma AG is the largest privately owned human protein products manufacturer in the world.