Case Study Overview
Customer: Ponsse
Location: Iisalmi/Finland
Products/services used: TORNADO, Pallet Racking Standard Aisle and Safety accessories.
Business need
Ponsse Oy is a leading manufacturer of forest machinery located in Finland. It has a factory in Vieremä where a significant proportion of spare parts for PONSSE forest machines are manufactured.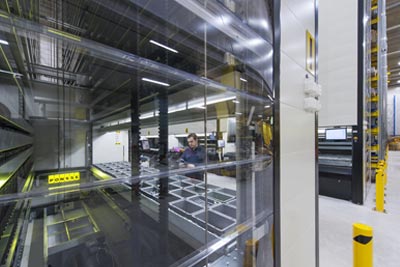 The company decided to build a new logistics centre, which would be a central hub for spare parts to replace their existing, cramped warehouse in Iisalmi. Although Ponsse stocks a small amount to supply the immediate area, the main objective of the centre is to provide fast, efficient deliveries to its network of 150 international service teams around the globe. The logistics centre also plays an integral role in the supply of first class maintenance services.
The hub currently operates in three shifts from Sunday night to Friday evening so it was vital that they had a solution that was robust enough for the job.
Kasten solution
The move from the old warehouse to the new hub tripled storage capacity but even so, the growing need for rapid delivery of spare parts for the forestry sector meant that every available centimetre of space would need to work hard. Kasten demonstrated that their TORNADO storage machines would provide the ideal solution, and eight were installed.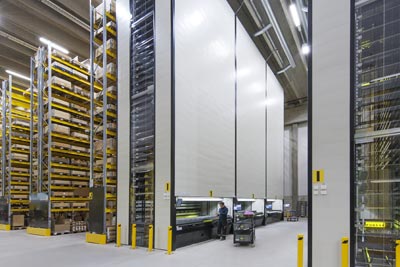 TORNADO storage machines are automated to increase productivity and save space. They can be used as a lift between different warehouse levels and/or floors with multiple access openings and also offer:
Savings of up to up to 70% in floor space whilst providing the same storage capacity.
Fast, efficient and accurate order performance.
Faster search times and fewer picking errors.
Shorter operator training times.
Minimised order throughput times.
Although Ponsse manufactures large forestry equipment, the maintenance work requires a lot of small parts. The pallet racking stores the larger spare parts, while the TORNADOs store the smaller parts.
The TORNADO storage machines and pallet racking not only added capacity but also offer other benefits such as boosting efficiency, lightening the workload and increasing security for the spare parts
Having previously used KASTEN Storage Machines, Ponsse already had positive experience with Kasten. The company was keen to replicate this so that the machines can be serviced quickly, and fully back in operation as quickly as possible, minimising any delays in deliveries.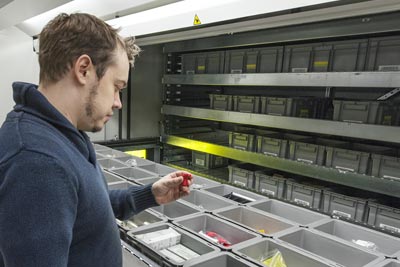 The result
"The experience has been good. The logistics centre works just as it should." - Logistics Manager Jussi Kärkkäinen
The new 4,500m2 logistic centre now provides 42,000 cbm of storage space and can stock approx. 20,000 articles with room for 7,000 pallet spaces. Today, it delivers around 100,000 separate articles globally each year, with next day delivery of spare parts guaranteed for Sweden and central Europe.
The flow of information and material is fully controlled at all stages of the process and the Warehouse Management System (WMS) has made it possible to introduce a degree of automation.
About Ponsse
Ponsse was established in 1970 to meet the growing demand for strong machines that could withstand heavy-duty use. Today it is one of the world's leading manufacturers of forest machines for the cut-to-length method and manufactures an impressive 70% of the spare parts used in forest machines. www.ponsse.com