Case study overview
Customer: Rossmann
Location: Wustermark/Germany
Products/services used: P90 Pallet Racking. Pallet-Flow and Drive-In with Dexion Pallet Shuttle System
Dexion helps Rossmann with some of life's essentials.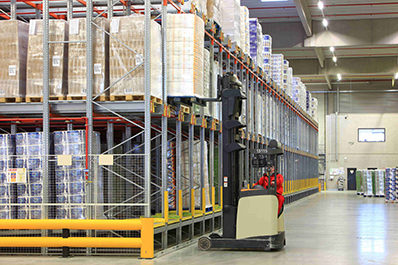 Business need
Rossmann is a large German drugstore chain with an online shop and over 3000 stores throughout Europe. It stocks more than 17,500 household, health and beauty lines. Whilst the majority of their stock can be stored on conventional racking, extra care needs to be taken with the paper-based products such as toilet tissue and nappies [diapers].
These two categories of items take up an enormous amount of storage space compared to their retail value. However, they are essential items that need to be stocked by any household retailer, let alone Germany's second largest chain. As highly flammable items, they need to be stored in a safe and fire-resistant environment.
When Rossmann built their new logistics warehouse in Wustermark, close to Berlin, they turned to Dexion to provide a storage solution that would work for all their lines.
Dexion solution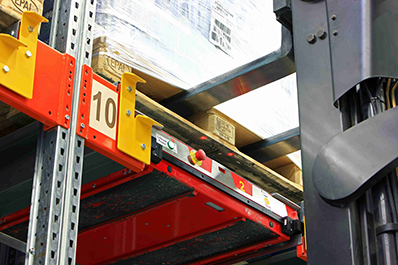 The solution was to install two Dexion products that worked together seamlessly: Dexion P90 Pallet racking in combination with Pallet Flow and Drive In with the Dexion Pallet Shuttle.
Dexion P90 Pallet racking is available in heights of up to 30 meters and varying depths and widths. The installation for Rossmann consisted of 20,000 pallets, 41 racking lanes, each with three levels, an included an integrated sprinkler system and two specially secured fire protection areas for the highly flammable goods.
Dexion Pallet Shuttle is a semi-automated storage solution for the handling of goods inside channels. All handling of the goods within the channels is carried out using the Pallet Shuttle which is remotely controlled by the user. The pallets are placed on a Pallet Shuttle (a battery powered pallet cart) which carries the pallets into the rack.
The Result
The combination of P90 racking system and the Pallet Shuttle system allows them to achieve much more than any alternative could. They have 968 pallet parking spaces in the installation and are able to handle 700 pallets per shift, with approximately 25 trucks loaded and unloaded.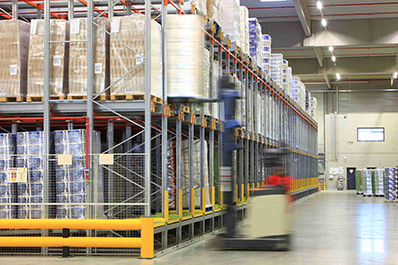 "The fact that Rossmann is currently implementing their fourth Dexion Pallet Shuttle System in Malsfeld near Kassel after the already realized projects in Wustermark (Berlin), Großburgwedel (Hannover) and Kiel, speaks for itself."
About Rossmann
Dirk Rossmann GmbH is the second largest drugstore chain in the Federal Republic of Germany. Rossmann is ranked 111th among the 250 largest traders worldwide. www.rossmann.de