Case Study Overview
Customer: Schenker Logistics/Nissan
Location: Gothenburg/Sweden
Products/Services supplied: Mezzanine system HI280 standard, Standard Pallet Racking
Business need
Schenker Logistics is Nissan's external partner for logistics and storage in Sweden. It is one of the most trusted logistics companies in the world – one of the reasons why Nissan use their warehouse in Gothenburg as their central store for auto parts.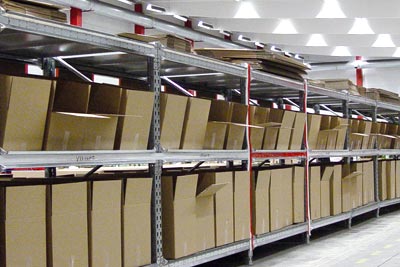 Auto parts come in all shapes and sizes, and the frequency of picking varies a great deal. To ensure the most effective solution for each of Nissan's lines, Schenker Logistics asked Constructor to provide a bespoke solution for the shelving and racking for the warehouse.
Constructor solution
Constructor carried out a thorough analysis of all the stored articles, and working together with the client, they concluded that the warehouse should be divided into four zones: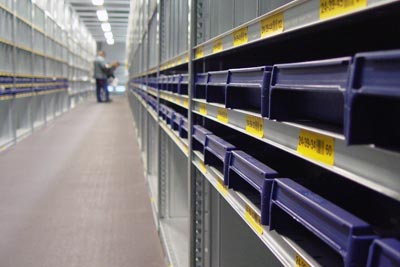 Zone 1: high rise where bulky goods like doors, bumpers and windows are stored.
Zones 2 and 3: mezzanine area with the high frequency goods on the ground floor and low frequency lines on the upper floor.
Zone 4: for long and small articles.
Having established the primary purpose of each zone, the Constructor products selected for the fit out included:
Zone 1 – high rise P90 pallet racking installation 8.5m supplied with many unique solutions, including mesh shelves (sprinkler function) and various types of vertical dividers.
Zones 2 and 3 - the mezzanine floor, which is a 400m² with a 500 kg/m² carrying capacity, was fitted with HI280 shelving and a large number of plastic bins to store more than 17,000 different articles.
Zone 4 - HI280 shelving system to a depth of 1000mm.
The result
Constructor not only has the products needed but also the knowhow to create special storage solutions, which are essential to store the thousands of small and large items that an auto parts stockist needs. The different levels and the zoning have really helped to improve efficiency and to maximise use of available space.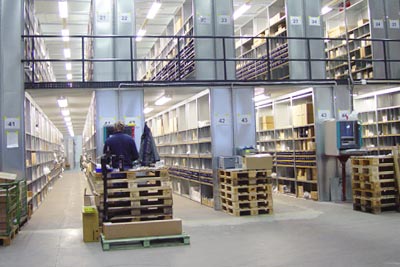 About DB Schenker Logistics
Schenker Logistics is part of the global DB Schenker Group.
The company has been providing advanced and integrated logistics solutions for a large number of Swedish and international companies with logistics centres at a number of strategically situated locations in Sweden and total warehousing space of 130,000m².