Case study overview
Name: Telway
Location: Drammen, Norway
Products: Mezzanine Floor Structures; Pallet Shelving; Remote-control Shuttle Wagons.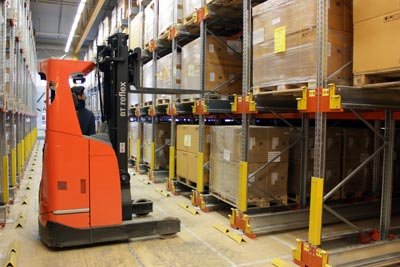 Business need
When telecommunications company Telway acquired a big new client, with significantly larger volumes than it was set up for, increased storage became a pressing requirement.
To avoid the costs and potential logistical headaches of using external storage, the obvious first step was to move to new premises with sufficient space.
Telway then required a shuttle system for its new premises – one that would make the best use of space and match the First in, First Out (FIFO) logistics system that best serves the new client's needs.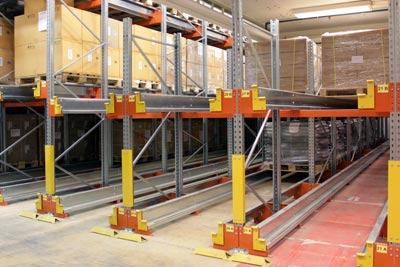 Constructor solution
Constructor has provided two blocks of pallet shelving and two shuttle wagons, including remote control options and a charging station for batteries.
From the site's warehouses, pallets run into the shuttle warehouse and are placed in front of the various rails.
In line with FIFO handling, the shuttle fetches the pallet at the front of the rack, while stock control is made easier by picking entire pallets from specific batches according to date. Meanwhile, pallets from the same batch are placed in the same race.
Adjustment of the rack height on one side of the storage room ensures full use of the space under the mezzanine offices, thereby creating useful extra pallet places.
The Result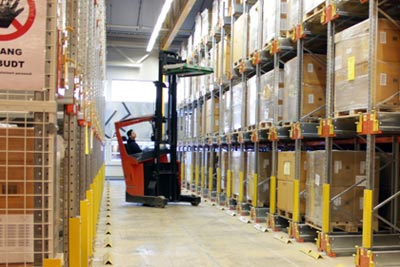 "We're really pleased with the solution. Thanks to Constructor, we have the optimum number of pallet spaces in a safe and efficient warehousing system that overcomes several logistical challenges in innovative and insightful ways." - Ellen Rognerud, Warehouse Manager, Telway
About Telway
Telway is Norway's leading distributor of multimedia and broadband products to Norwegian Internet Service Providers. Its offer includes products and components, consulting, total flow of goods from producer to end customer, configuration, handling and refurbishing of returns, and customer support. ww.telway.no