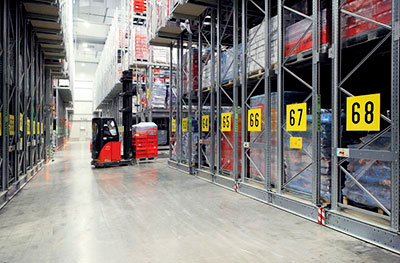 It begins with good planning. To start with, it would be wise to forecast, perhaps up to as far as ten years ahead, projecting your growth and aspirations. Whether the premises is owned or leased, now would be a good time for management to review current and proposed metrics such as SKUs, pick rates and orders processed. Consider the types of goods you handle - are they fast moving or C-Type slow movers?
If the current operation is largely manual, are you going to consider automation? If so, when is the ambition to become largely automated?
If you're considering expansion, it's likely that your inventory will be bigger. You'll know whether your old way of doing things is unlikely to work anymore if you fail to replenish as quickly and accurately as you know you should be. In that case, now might be the time to consider automating these processes to avoid future errors. Your receiving area will invariably be bigger and taking in more stock.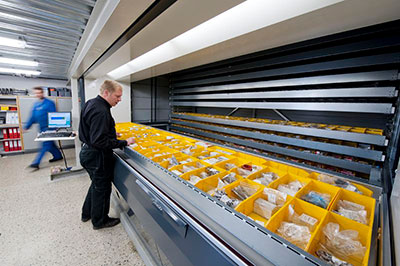 In order to avoid a slowdown, you'll probably want to receive, verify and sort your products as quickly as possible. Again, introducing some automation now or in the future could be a good solution. To achieve this, you may well need to adjust or even ditch your previous receiving processes. In any case, any planned investment should be carefully considered and be financially justifiable.
Think about creating a good working environment for your staff. Solely concentrating on stock placement alone can sideline considerations like having the right lighting and establishing picking routes that make their jobs easier and more importantly, safer.
So, who will you partner with to achieve all of this? Pick a well-established storage industry manufacturer who can provide a solid record of success, a portfolio of compatible product solutions and a cradle-to-grave sustainable, safe service solution; a partner who can developed future proofed products which can dovetail neatly into your expansion programme as it progresses.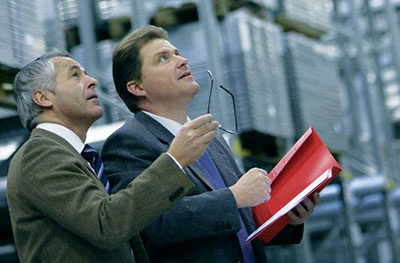 Dexion Analysis & Advice
So where does the specification start? Dexion doesn't just offer general advice and guidance about your storage requirements; we go further to provide you with practical assistance and advice with a more detailed analysis of your storage requirements.
Our own in-house analysis will translate your storage needs into a specification report, evaluating all areas of your warehouse, including:
The layout & storage equipment you require
Your material storage locations
The optimal material handling processes & picking speeds
Life-time costs of the system
Growth strategies and market trends.
We determine your optimum layout, system and process flow to ensure your warehouse is continually optimised.
Dexion products are designed to withstand tough environments. And they don't get much tougher than warehouses and distribution centres. The constant movement of goods, forklift trucks and pallets takes its toll on any storage system. We can also supply you with several accessories to keep both your storage system and employees safe.
Once a specification is produced, the design and installation process is undertaken by qualified engineers and trained installers. A full follow up service regime can be provided to include rack inspection, heath & safety, service and maintenance, together with courses and seminars.
Case study: UK soft drinks manufacturer enhances distribution service within existing warehouse footprint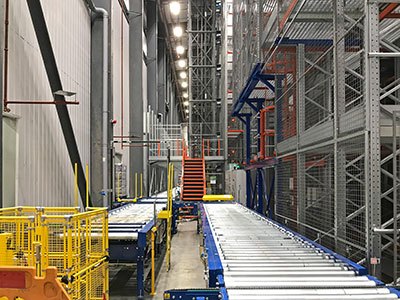 A manufacturer of soft drinks was seeking to increase production and sought to streamline its 150,000 sq. ft distribution without adding to the warehouse footprint. The well-known brand produces soft beverages and sales are summer weather dependent. Batches need to be fully traceable; storage is a continuous process and distribution by lorry operates 24/7. The challenge was to increase throughput by offering an enhanced fulfilment-oriented service to an FMCG client base.
Working closely with our customer over a period of 3 years, we designed and installed a 15,000 pallet storage shuttle system to modernise the efficiency of the existing warehouse operation from receipt of product through to output.
The system, designed initially in semi-automated mode, was designed to accommodate up to 300 pallet movements per hour – an increase of 200% on their existing storage system. This provided the required level of growth to the business; with the initial concept designed for automation at a later stage to realise further benefits against ambitious growth targets. The business was able to 'grow' into this additional capacity, by adding additional shuttles later – offering strong ROI on the initial investment.
Within three years, the business had exceeded all growth expectations and had reached the pallet movement ceiling for the 'manual' operation. This resulted in the second phase of the system being installed, which incorporated the automation of the system; increasing the system to 600 pallet movements per hour and maintaining their ongoing growth plans.
About us
With a group turnover of almost 200 million Euros in 2018, Dexion is part of Gonvarri Material Handling, a leading pan-European provider of storage products and solutions. In addition, the Group is marketed throughout Europe under the Constructor, Kasten and PSS brands.
Products range from innovative pallet racking and shelving technology to office and archive storage solutions. We provide a complete package of services including consultancy, planning and maintenance whether the requirement is for the fitting out of a warehouse or distribution centre or a shelving solutions for retail, manufacturing and automotive industries.
To find out more, please Contact Us.