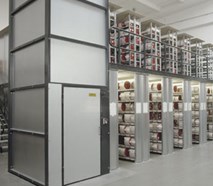 Goods Lift
Instead of, or in combination with a pallet loading/marshalling area, a goods lift is very efficient for moving entire pallets or loose goods between levels.
Our lifts are surrounded by a mesh wall, and have various safety elements, options and possibilities.
Goods lifts are available in a variety of weights, classes and dimensions, to meet local health and safety requirements.