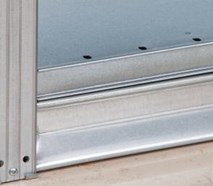 Base Plinth
Fitting at the front, below first shelf, a plint prevents items from entering the space beneath.
A base plinth is fitted between the front uprights to fill the gap between the floor and the lower side of the first shelf. The first shelf is fixed above the plinth; it needs to have a height of 100 mm above floor level. The back of the first shelf is supported by a shelf beam.
The base plinth has the same cross section as the medium span beam; but the base plinth does not have any holes on the upper side and it does not have any hooks to support the medium span steel infill shelves.
The base plinth is NOT a structural component.
Length: to match standard bay lengths 900 mm, 1000 mm and 1290 mm
Material: Steel
Finish: galvanised