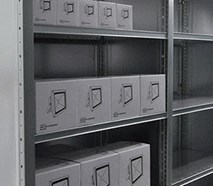 Full Width Solid Back Cladding
The cladding is positioned between the back uprights within a bay to enclose the storage compartment. In double entry racks the cladding is common, being shared between both bays.
A combination of two or more panels can be used to clad taller bays. Where a combination is used the gap between panels should be covered with a piece of cladding trim.
Each panel is attached to the uprights with 6 back cladding clips. The hook on the clip passes through one of the rectangular hooks punched along either side of the panel.
This type of cladding is NOT structural.
Size: Suit standard bay lengths of 900, 1000, and 1290mm.
The actual panel size is 51mm less the bay size.
Standard heights of 800, 1000, 1200 and 1300 mm.
Material: 0.6 mm thick steel
Finish: Either pre-galvanised or painted Grey White RAL 9002