Customer: H2O GmbH - Waste water recycling
Location: Steinen / Germany
Products / Services: 2 Tornado warehouse lifts with TCPlus and batch picking
H2O GmbH is one of the most experienced experts worldwide in the sustainable treatment of industrial waste water. The system solutions for waste water recycling are already successfully used in over 50 countries.
H2O has a Europe-wide service network and offers its customers a worldwide e-service and spare parts service with short response times.
"Water is one of the most precious resources on earth. Protecting it and making it economically renewable is what drives us". (H2O GmbH, 79585 Steinen, Germany)
In the course of an site expansion at the headquarters in Steinen, Baden, the warehouse and final assembly were accommodated in one building complex. H2O attaches great importance to offer its employees a good and motivating working environment.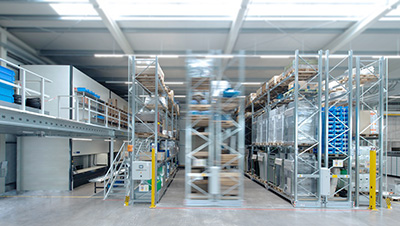 The result is a daylight-flooded storage and assembly hall that is unparalleled. The integrated storage systems are functional, easy to operate and ergonomically designed.
In addition, as much storage space as possible was to be compressed into the smallest possible space, the height of the hall was to be used completely, thus creating space for final assembly and dispatch.
The spare parts for the VACUDEST system had to be well sorted, clearly arranged and quickly accessible. H2O guarantees its customers that spare parts which are ordered before 1pm during weekdays are dispatched the same day.
Dexion convinced the jury with competent and personal advice on site as well as with an efficient, space-saving solution and comprehensive service, including user-friendly control software.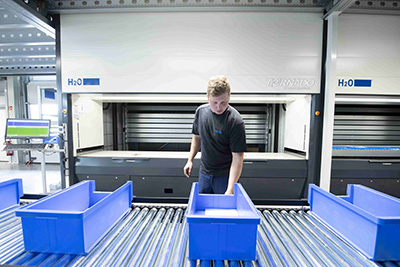 The solution
Two Dexion Tornado® 7m high warehouse lifts with batch picking zones enable high order-picking performance within minimum available space.
A small MOVO heavy-duty mobile racking system, two mobile carriages with double racking rows, including an area for storing hazardous goods, 6.50 m high for large-volume goods on pallets ensures compressed storage of the pallets.
Tornado® storage lifts with batch picking and TCPlus software
Two 7 m high Tornado® storage lifts were installed for small parts storage. The entire hall height was thus used efficiently. Spare parts for the spare parts service and assembly are stored here, on 40 trays each, clearly arranged and quickly accessible on a minimum floor space of 13.37 m2.
Per tray (WxD - 4000 x 800 mm) 3.82 m2 are available for small parts, per machine 131.2 m2, a total of 262.4 m2 storage area on 13.37 m2 floor space.
The storage lifts were integrated into a platform to create additional storage space on the first floor.
High vertical and horizontal travel speeds as well as short distances allow an optimal picking performance.
TCPlus software, a Windows-based WMS system, ensures accurate and always up-to-date stock control, while the integrated batch picking function ensures maximum picking efficiency. Both machines are served simultaneously, several orders can be picked simultaneously in one batch (stack).
Due to the ideal principle "goods to person", working conditions are ergonomically improved, work performance is increased and safety for the operator is optimised.
MOVO heavy-duty mobile racking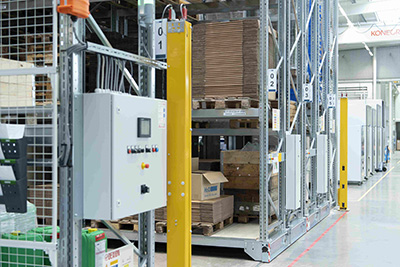 A MOVO mobile racking system for large-volume articles with a height of 6.50 m and a hazardous goods area was also installed in the hall.
The mobile racking system uses the maximum hall height.
The P90 pallet racking is mounted in double rows on the mobile racking units, two blocks in total.
Here, too, the maximum storage space was realised on the smallest possible footprint, thus creating additional space for the assembly and packaging of the machines.
The result
A customized complete solution consisting of two different dynamic storage systems. A total of two automated Tornado® warehouse lifts with TCPlus software and connection to the in-house ERP system, with batch picking function and upstream batch picking zone for optimal efficiency and accuracy. On a total of only 13.37 m2 of floor space, 262.4 m2 of storage space was created for the storage of small parts.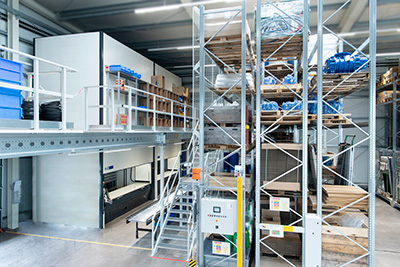 A total of 2,500 different production and spare parts are stored here. In order to be able to cope with the planned future growth, a reserve of 15 % is still available for future capacities with the Tornadoes currently at maximum capacity.
The second system, the MOVO mobile racking system, 2 blocks, equipped with P90 pallet racks in double rows, with a payload of up to 3 tons per rack level, creates space for 336 pallet storage locations on a floor area of 85.5 m2.
This has created additional space for the assembly of the vacuum distillation systems and the packaging of the finished plant units.
 "From the first meeting with Dexion, the sales consultant on site, Mr Andreas Dorn, right up to the award of the contract, the cooperation was extremely constructive. The joint reference visits have convinced me in terms of technology. Of course, the price-performance ratio was also right.
All in all, we have the storage systems that exactly match our requirements and our needs". Tobias Wetzel, Head of Manufacturing & Warehousing H2O GmbH, Steinen.
About H2O GmbH, Steinen
The company H2O GmbH is a leading manufacturer of system solutions for the treatment of industrial waste water. Under the brand name VACUDEST with the seal of approval "German Engineering" H2O produces high-quality and economic vacuum distillation systems for waste water free production at its site in Steinen, Baden.