Case Study Overview
Customer: Handy Distribution
Location: Swindon/UK
Products/services used: Standard Aisle Pallet Racking, 3m High Hi280 Static Shelving, Protect-it column protectors, Tubular barriers
Business need
When Handy Distribution, the UK's leading distributor of garden and landscaping machinery to trade outlets, decided to move to larger premises in Swindon, England they approached Dexion for help to rack out their new warehouse.
The wide range - and size - of products they sell plus a warehouse with a varying roof height meant that Handy needed a company that offered not just the right products, but also well thought out solutions.
Dexion solution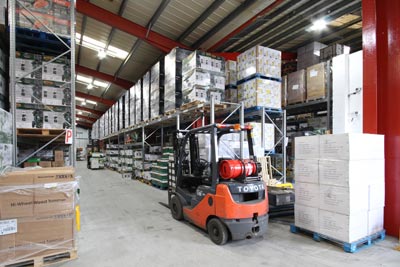 Dexion started by looking at the big picture. With a wide product range distinctly falling into two categories of products - large, heavy bulky boxes containing lawnmowers, chainsaws etc. and lighter weight consumable and small spare parts – they quickly identified that two different types of storage areas were required.
Dexion drew a design concept for a standard wide aisle pallet racking area for the storage of larger items, allowing quick and easy access during peak picking period and a shelved storage area for the range of over 100,000 spare parts. The ceiling height in the small parts store area, while not high enough for two levels of storage, was more than adequate for 3m high shelving, enabling Handy the capacity to comfortably store as many spare parts as they needed in this area.
Mesh shelves were also used in the pallet racking area, allowing for when smaller boxes needed to be stored off pallet. The company also decided to protect their investment by adding tubular frame barriers.
The result
"Overall we are delighted with the final results and now having worked with it for a year, it has proved to be an efficient and time saving solution which covers all our needs.

We had a blank canvas to work with when we moved into our 13,900m2 warehouse but required some expert help to ensure we installed the racking in an efficient and cost effective manner. We were amazed with the solutions which Dexion suggested and installed, particularly how they maximised the use of space for our small spare parts division. Three separate rooms were racked floor to ceiling and all available space was used to its full potential.

The pallet racking in the main warehouse was installed with a great deal of thought, once again using all available space. Various shelf spacing was used to accommodate our many different requirements from light weight parts to large heavy machinery." - Simon Harrington, Spare Parts Manager.
About Handy Distribution
Started in 1938 by Geoffrey Handy as an ironmonger's business in the old town of Swindon, Handy has grown and expanded into a specialised garden machinery business and now has more than 70 full time staff.
Handy Distribution has two divisions. One is the UK's largest Garden Machinery wholesale distributor, supplying brands such Webb, Bosch, Karcher and their own range of machinery "Handy" to well over 200 specialist dealers, large national retailers, garden centres and mail order companies, whilst the other is a retail base in the South West of England.