Case Study Overview
Customer: Meneta
Location: Odense/Denmark
Products/services used: Pull-Out Units, Pallet Racking
Business need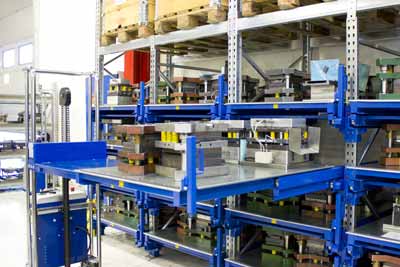 Meneta is a sub-supplier to the automotive industry. It was established in Denmark in 1953 and is one of only a handful of companies worldwide that specialises in producing OE parts for brake systems. The company are experts in the manufacture of back plates and shims, which eliminate vibration and noise, and they have recently added new automotive components and accessories to their portfolio.
Meneta recently reviewed the storage and handling of their heavy tools. They discovered that the racking they had for the tools was causing problems as the tools were stored too high up for employees to handle correctly. This was unacceptable for a company that places great emphasis both on LEAN production and health and safety in the workplace.
They chose Constructor to find a way to improve both.
Constructor solution
The Constructor team spent time with the workforce to understand the existing process. They saw for themselves that production requires 80 tool changes per week. The tools are heavy and unsuitable to be lifted by crane, which means they have to be physically pushed from the rack onto a tool cart.
This research resulted in Constructor devising a bespoke solution-a special Pull-out tray that was designed without edges. This design enabled the Pull-out unit to be pulled out and positioned alongside the tool carriage to a height matching the Pull-out tray. The tool could then be easily pushed/pulled from the tray onto the tool cart.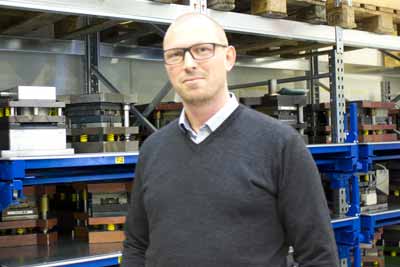 The Pull-out tray could then be returned to the rack, while the tool is transported to the processing line. A total of 40 Pull-out trays, with 10500 mm x 1200mm deep racks have now been installed. This new racking solution has achieved better ergonomics in the handling process and freed up space for a new production line.
The result
"We've achieved greater functionality and our operators are very pleased with the solution. It has facilitated the handling of the tools considerably, and it is now easier to locate the tools. This means we have ultimately been able to optimise conversion times in production, resulting in increased productivity and efficiency." - Søren Jørgensen, Project Engineer, Meneta
About Meneta
Meneta, based in Odense, is a global organisation with approx 2000 employees. It has wholly owned production plants and testing facilities in Denmark, USA, Germany, China and India, assisting customers in over 75 countries worldwide.