Case Study Overview
Customer: Veldboer Eenhoorn
Location: Zwaag / The Netherlands
Products/Services used: P90 Pallet Racking, Push-back Racks, HI280 Shelving with long span shelves
Business need
Veldboer Eenhoorn has been delivering on a daily basis across the region since 1962. They wanted to increase the capacity of its distribution centre in Northern Holland due to increased orders for food products. This expansion needed to be completed without disruption to day-to-day operations.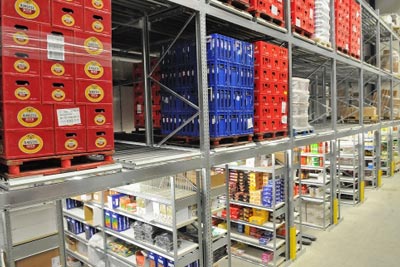 The hospitality companies, educational establishments and other large-scale businesses, which make up the majority of Veldboer Eenhoorn's client base, often prefer to use one supplier for all their food product supply. As their client base grew and existing clients expanded their own operations, so Veldboer Eenhoorn had to meet these growing demands.
The Veldboer Eenhoorn distribution centre already had solutions from Dexion, such as P90 Pallet Racking, a mezzanine floor and HI280 Long Span Shelves. Amongst the requirements for the expansion project, Veldboer Eenhoorn needed extra refrigerators / freezers with temperatures ranging from +5 0C to -30 0C.
Dexion solution
Due to this long-standing relationship, Veldboer Eenhoorn saw Dexion as a reliable supplier and the perfect partner to ensure a successful expansion.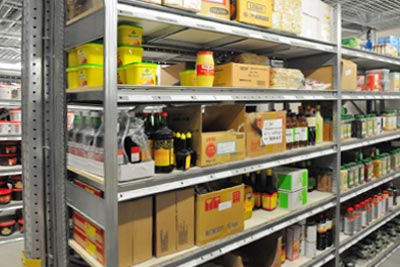 The project had to be completed while ensuring a number of key criteria were met: the space in the fridge / freezer had to be fully exploited; the logistic routing had to be optimised; the assembly had to be completed while the entire company was operational - the picking had to remain uninterrupted and a continuous process.
Dexion's HI280 Longspan shelves with on-top P90 Push-back Racking and HI280 Longspan shelves, with on-top P90 Pallet Racking, ticked all the boxes.
Benefits of the Dexion solution:
Existing long-standing relationship meant Dexion already had a deep understanding of Veldboer Eenhoorn's business needs.
Guaranteed fast, efficient and accurate order performance across 10,000 product lines.
No interruption to existing high-volume business while expansion took place at the same site.
Achieved maximum storage capacity within the building, especially in fridges and freezers.
Offered firm foundations for a reliable logistical supply chain.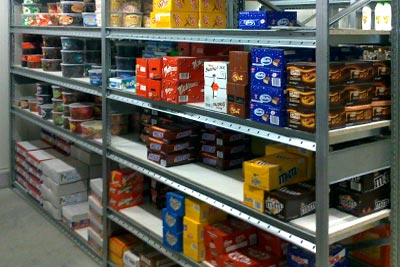 The Result
As Dexion already understood the business inside-out, the project was carried out with no disruption – enabling Veldboer Eenhoorn to meet existing day-to-day delivery targets.
About Veldboer Eenhoorn
Veldboer Eenhoorn is a catering equipment and food supplier to hospitality businesses, associations, institutions and company canteens in the northern region of Holland. Each day, from its 4,000sqm distribution centre, Veldboer Eenhoorn supplies items from over 10,000 product lines to customers across the region.