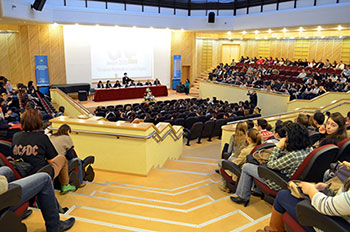 While their peers are participating in various activities within the "Different School" week, the best students in the country competed in the national phrases competitions in various disciplines. Brasov was chosen as this year's host of the National English Language Olympics.
The opening ceremony as well as the award ceremony were hosted in the "Transylvania" University Auditorium. Alongside students and teachers special guests also participated, one of them being David Lewis, the representative of the Romanian British Council.
"From my experience, the level in which English is spoken in our country is extremely high, especially compared to many countries in the world, where it is difficult to find English speakers. In Romania, many people have a very good understanding and can hold a conversation." The teacher said.
234 students from across the country took part in oral and written exams . Brasov was represented by six students from the National College "Andrei Saguna" National College "Dr. Ioan Mesota" and "Johannes Honterus." High School.
The competition lasted for a week, at the end of which the best young connoisseurs of the English Language was awarded.
Lucian Cazacu, Administration / HR Manager for Dexion and one of the initiators of the project said: "We chose to sponsor this event because English is a "universal language" for our group and we recognize the importance of this language for young people. In the context of accelerated globalization, in which, the English language has a central role, we believe that such initiatives prepares young people to excel in the workplace. We are happy that we can help talented young people and expect to see them in a few years in the ranks of our company or other corporations."