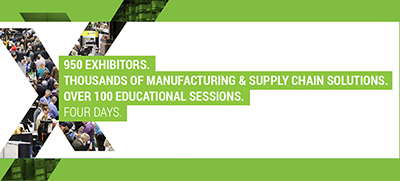 Constructor Group will be showcasing their ground-breaking automated storage solutions on the Automated Integrators stand at ProMAT 2017.
Not only will visitors be able to see close up the innovative Automated Tornado Lift Machine and Paternoster Vertical Carousel that have revolutionized automated picking, they'll also be able to try it for themselves in this show special.
The machines will be filled with thousands of pieces of plastic parts during the exhibition which when put together make a toy car. Visitors will be able to operate the machines to pick the individual parts they need to build their own mini set of wheels, which they can then take home with them.
"Seeing an automated storage machine in action is mind-blowing because of the speed and accuracy when picking even the smallest parts. Both the Paternoster and the Tornado offer incredible returns on investment as they can improve picking rates by up 65% whilst saving up to 75% on floor space. Visitors will be able to see for themselves just how effective automatic storage retrieval is, try it out and discuss their own requirements with industry experts," said Peter Blangiardi, VP Business Development & Sales, Automation Integrators.
ONE BADGE, TWO SHOWS
As a bonus, your ProMAT badge gets you into Automate 2017 where you'll find automation solutions you need to make your operations work more profitably.
PROMAT 2017: in brief
Event: ProMAT 2017 and AUTOMATE 2017 (two shows together) - the largest expo for manufacturing and supply chain professionals in North America.
Venue: McCormick Place, Chicago, IL, USA
Dates: 03 – 06 April 2017
Stand location: S4462
Contact and free tickets:
Peter Blangiardi,
VP Business Development & Sales
Phone: 877-461-2504 x2352
pblangiardi@autointegrators.com
About Automation Integrators
http://www.autointegrators.com
About the Tornado Lift
About the PATERNOSTER
About Constructor Group
Constructor Group which has many years of experience providing storage solutions for a wide range of industries throughout Europe and North America. www.constructor-group.com
About the Exhibition
http://www.promatshow.com/