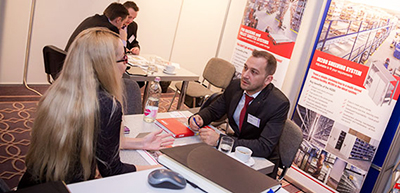 Specialists from Dexion Hungary and neighbouring Romania, Slovakia and the Czech Republic welcomed new and existing partners to the most important Logistics Event in Eastern Europe.
The Dexion team at Translog 2015, met with many participants from major companies in Hungary but also from Romania, Czech Republic, Slovakia, Macedonia and Serbia. These participants visited our stand eager to meet our representatives and learn more about the solutions that Dexion could provide them to overcome their warehouse challenges and maximise warehouse space.
"This is the second time we have attended Translog and we are looking forward to attending again next year . This year we met a wealth of delegates, highly interested in our storage solutions. We were able to both create contacts for current and upcoming projects, signalling longtime collaborations.

The organisers were very helpful, providing assistance in arranging our meeting and offering an overall highly professional environment. The event also featured various logistics conferences and an interesting tour to the Mercedes Manufacturing Plant, however we focused on creating and building business relationships with our newly found partners." Said Peter Zoltan, National Sales Manager for Dexion Kft Hungary.
TRANSLOG Connect Congress is the market leading cross-industrial business summit for transportation, logistics and supply chain management professionals in the Central Eastern European region.
Since the event launched in 2011, the number of participants has reached more than 500 from over 30 countries in the region and beyond. Directors from leading businesses from across various industries - such as automotive, electronics, oil & gas, heavy industry & steel, retail, food & beverage, FMCG, energy and beyond - attend each year's summit to meet the key logistics, software, consultancy, transportation and warehousing service providers.
In order to ensure the quality of the conference programme, the organisers worked closely together with leading local and regional associations, European and International media partners and the Programme Advisory Committee, whose members are well-known logistics experts of leading international companies. The conference programme offered up-to-date market insights into supply chain management, logistics, production, IT, transportation and warehouse management-related topics.
Over the two days, service providers had the opportunity to meet with leading directors and industry experts through a series of pre-arranged one-to-one business meetings and several informal networking activities, maximising business efficiency, presenting a unique opportunity to develop meaningful and valuable business relationships.