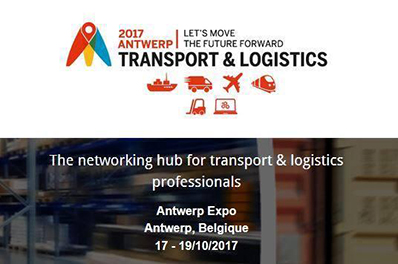 So when the Dexion team heard that the organisers of Transport & Logistics Antwerp 2017 had chosen the motto 'Let's move the future forward' for this year's event, they were delighted to be asked to showcase some of their innovations.
"This is the largest trade show for the transport & logistics sector in the Benelux region, so we know we are going to be busy," said Guido de Cock, General Manager. "At other events, our automated products such as the Tornado storage machine and MOVO mobile shelving have been a huge draw for visitors. We'll be showcasing these and other products at the event and there will be a team on hand to discuss any specific requirements. Whether you are an existing Dexion client or a new face, we'd love to see you on the stand."
Transport & Logistics 2017 in brief:
Event: Transport & Logistics 2017: the networking hub for transport & logistics professionals.
Venue: Antwerp Expo, Antwerp, Belgium.
Dates: 17-19 October 2017.
Stand location: 2.041
Entry: free with eticket.
You can attend the exhibition free of charge by registering for an e-ticket.
Secure your ticket here
Notes for Editors
About Dexion
Dexion is a leading supplier of storage solutions and warehouse optimization. It is part of the well respected international Constructor Group which has many years of experience providing storage solutions for a wide range of industries throughout Europe. www.dexion.be
About Transport & Logistics 2017
http://www.easyfairs.com/transport-logistics-2017/transport-logistics-2017/