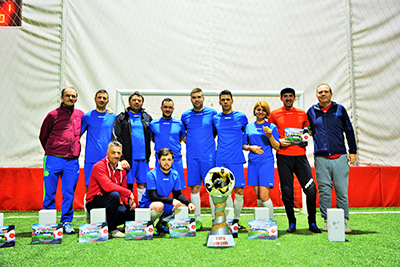 The 12 teams each consisted of 8 men and 1 woman and they all showed great determination and passion throughout the competition as well as a great deal of fair play.
A symbol for this event was Florin, captain of "No Fear, No Beer" who kept playing and leading his team through the competition despite fighting a wrist injury.
The deserving winners of the competition were the team "Norocosii" consisting primarily of representatives of our weekend staff.
Other special awards were given for the best male and female player, most technical male and female player, most beautifull goal, most spectacular action, most fair play team and the most fervent supporters.
These highlight the main features that Dexion and this event want to emphasize: skills, devotion, passion, diversity, teamwork and discipline.
Another special thank you is extended to the supporters that were so enthusiastic that their cheers could be heard across the field, in the neighbouring residential area and to our colleague Marius who created and shared a live scoring and statistics software for the championship, available to all through our Social Media.
As Lucian Cazacu, organiser of the event declared: "Dexion wants to thank his employees for dedicating time to their event, and participating with passion and commitment, in complete fair play and sportsmanship and to the management team for supporting and participating in this team building endeavour."