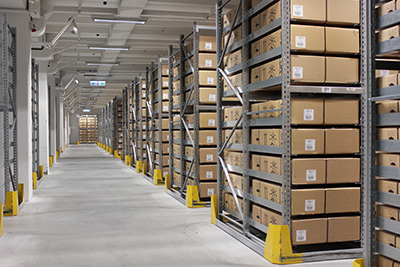 Kopenhagen Fur's mink trade is a key part of its business, and continues to grow in terms of product volumes exported to Europe and Asia. This success meant they needed to find extra storage space without extending the existing footprint.
Kopenhagen Fur adopted vacuum packing for mink fur in 2017. Vacuum packing furs not only cuts down the amount of storage space required, but also reduces susceptibility to climactic factors such as temperature and humidity, thereby protecting the product.
So while processing and storage volumes grow, Kopenhagen Fur actually has more warehousing options on its existing footprint, thanks to Constructor. With automated systems deemed unsuitable for this environment – and in effect, slower – Constructor collaborated closely with the employees that sort and pick items to ensure a safer and more efficient environment.
Now with roller systems integrated into the profiles, picking and sorting is faster, safer and more comfortable for Kopenhagen Fur's warehouse operatives.