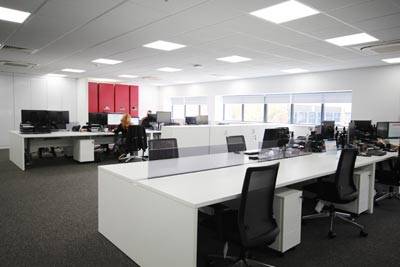 Like many of their clients, Dexion UK had the familiar challenge of having premises which were no longer efficient. "Our Swindon premises serve as our national distribution centre for the UK and Ireland, so it's an important hub for the company. We've been here since the 80's and have extended our office space many times over the years" said Managing Director, Matt Grierson, "This has served us well, but with the business going from strength to strength, it was time to take stock and create a environment where staff could collaborate with ease".
In consultation with staff, suppliers and customers, Matt and his team drew up a list of goals.
to create a modern collaborative workspace in which employees could work together on one floor to forge a stronger team and strive towards common goals.
to create a customer suite where customers could experience our products and services in a dedicated area, which would also lend itself to a training centre for distributor partners and staff alike.
to create a modern breakout area where staff would relax, socialise and enjoy their day in the workplace.
To achieve this, a total reconstruction and redesign was required. It was a major project which cost over 1 million pounds and took 5 months from start to finish. The construction team were able to complete it without interrupting the day to day business needs.
Working for everyone
Now that the project is complete, Matt is not the only one who is delighted with the changes. Feedback from staff has been equally as enthusiastic, as this selection of comments shows:
"I like the coffee machine and kitchen and feeling proud of where I work."
"My favourite part of the office is our new meeting pods and the open plan environment."
"I'm still feeling a little dazed by the amazing space that's been created for everyone."
The Swindon Project: Key Features
New state of the art office equipment, ergonomically designed for staff welfare.
New customer suite and show room to host customers and demonstrate products.
New staff welfare area making for a great and fun place to work
New sustainability features including LED lighting, VRF climate control and electric car charging ports.
In summary, Matt concluded "Creating an environment where team members feel good about their workplace is extremely satisfying. I look forward to welcoming new and existing customers to our fantastic new facilities and assisting with their storage and material handling challenges".