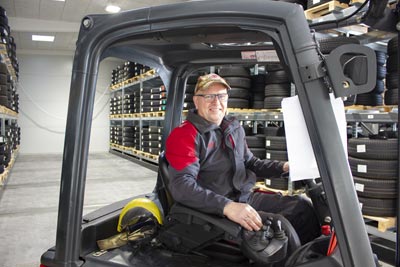 Jørgen Hansen Biler brought in the experts at Constructor to fit out a new building it had put up to house its vehicle workshop, along with the hundreds of tyres it stores.
The building was erected in response to a cost/benefit analysis, which demonstrated that technicians' valuable time was being wasted fetching and carrying tyres from the original storage containers situated across the road from the vehicle service area.
The challenge for the Constructor team was to optimise the tyre storage space in the new 300sqm building, and to minimise the time technicians had to spend on transporting the tyres.
"We looked at the type of goods that needed storing, the range of makes and sizes, and the frequency with which they would be selected," said Henrik Skov Jensen. "Our solution was to design and manufacture mobile tyre racking, with pallet racking on mobile units.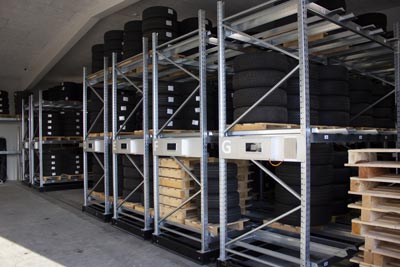 These units are electrically driven via control panel. Selecting the tyre is a simple matter of one driver and one forklift. The driver retrieves and deposits the pallet he needs, then pushes a button to open up another aisle, ready to collect the next set of tyres."
By carefully optimising the available space, Jørgen Hansen Biler can now store up to 700 sets of tyres, on six rows of mobile tyre racking, with each row containing 54 sets.
The workshop carries out ten to 12 tyre changes per day and, because the tyre storage section opens earlier than the workshop, all the tyres are ready for the technicians when they start work.
Henrik Skov Jensen added: "Not only is the technicians' time no longer being taken up with fetching tyres, the new storage area allows for easy access to all makes and models of tyre. Employees' safety has been improved and the tyres are being stored in a facility where their quality is maintained."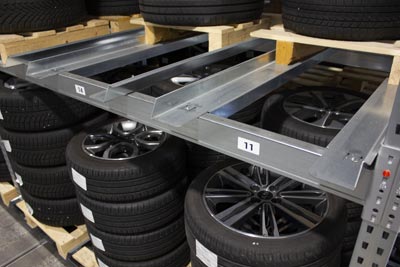 Jørgen Hansen Biler is a leading dealer of world-renown car brands Kia and Isuzu.
Owner, Jørgen Hansen, said: "The mobile tyre storage solution provides more benefits like better control of our wheels, the wheels are stored in a dry and safe manner, and it looks good.
We take pride in our showroom and we want the tyre storage solution to reflect this. We have had some challenges along the way, for example the floor had to be re-levelled for the rails, but we are very pleased with the end result."
If you run a motor dealership or vehicle service centre and need a new storage solution for tyres, please get in touch with the team here at Constructor for more information.