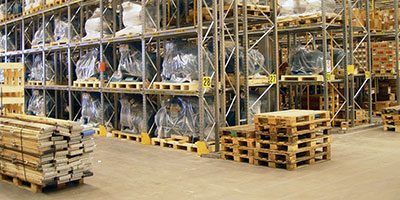 If the items are bulky and heavy, it could be tempting to simply store them on pallets on the floor but that really doesn't make the best use of the warehouse's cubic capacity. Indeed, it could present a hazard to people and lifting equipment.
Fortunately, adjustable pallet racking has the versatility to accommodate almost any product that needs shelf space, including heavy and bulky items which can be suited to all kinds of pallets – whether they be Euro, Chep, disposable or captive pallets, mesh boxes or bins.
What are bulky and heavy items? These could be anything from stacks of bricks, to lengths of steel; drums, to metal containers with feet. They all need to be accommodated but at the same time not hamper the smooth-running of your warehouse.
Whatever the product, there is always suitable storage solution. Here are some of the variations on adjustable pallet racking that can accommodate bulky items.
Adjustable pallet racking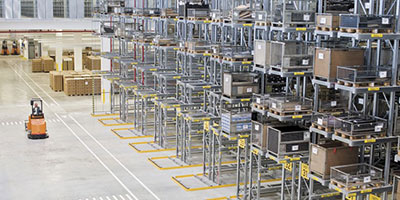 Looking like a conventional storage unit, adjustable pallet racking comprises of frames to provide the vertical structure, and horizonal beams on which rest the products.
This is one of the most common and most effective units chosen, as it can accommodate a wide variety of items of different lengths, widths, heights and weights. Its benefits:
Warehouse staff have access to any of the pallets, at any time
Staff can access the rack from any position, with no need to move other pallets
Easy for stock control
Flexibility: it can be adjusted to accommodate different weights, heights and lengths.
Adjustable pallet racking is ideal if you need fast, frequent, easy access to all of the stored goods. However, because an aisle is needed between each row of racking, it does not offer as high density storage as some other alternative solutions.
DRIVE-IN pallet racking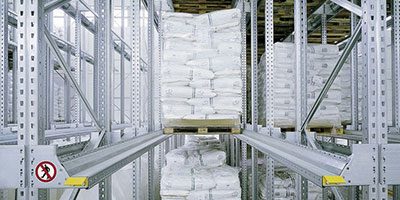 The real advantage with drive-in pallet racking is the high density offered. Forklifts are driven in from one side to restock or to pull out items.
However, the loading and unloading of goods are made in a specific way, with the upper levels being loaded first. Indeed, with this type of pallet racking, a warehouse can store some 75% more than adjustable pallet racking.
To prevent a higher risk of damage from the forklifts hitting the pallet racking, this system can be combined with safety accessories such as protectors and column guards.
DRIVE-THROUGH pallet racking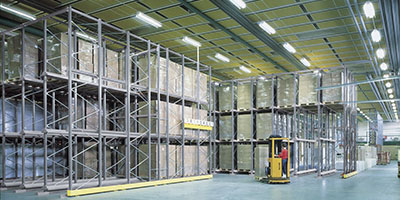 Here, the forklift drivers can enter the rack from either side to deposit or select pallets.
As the block is open at both ends, it offers greater flexibility in terms of picking and restocking.
Again, this system can be combined with multiple safety accessories to prevent the risk of damaging the racking.
PUSH BACK racks
PUSHBACK racks (LIFO) are an excellent solution if your products can be stored on a Last In, First Out basis. They operate in this way: a forklift places the pallet on a cart which sits on rails or on a roller bed. When the next pallet is deposited, the first one is pushed backwards on the cart rails or on the roller bed, which are slightly inclined (3-4% incline). The forklift therefore must be able to push the accumulated pallet weight.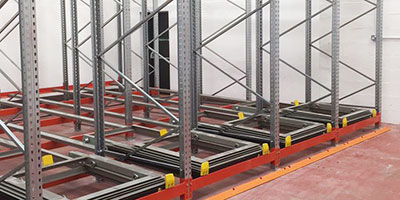 Similarly, when a pallet is removed, the one behind comes forward to take its place. It cannot come off the front (as long as the manoeuvre is carried out carefully) due to breaks or stoppers.
Pushback pallet racking offers a high-density warehouse storage solution, with 90% more capacity than selective storage.
It also offers more access to pallet locations is faster to operate than drive-in or drive-through, due to the loading & unloading being made from the outside of the block. The risk of forklift damage is also decreased with this system.
So back to the question of storing bulky or heavy items. First, carefully consider both the layout of your warehouse and the products you need to store. Also factor in other equipment you need, such as forklifts.
Do you need to store items that have a fast turnaround? Or could you opt for higher density storage but compromise on the frequency of access?
When you have the answers to these questions, then the right pallet racking solution should become apparent.
If you would like more help and advice on adjustable pallet racking to store your heavy or bulky items, please get in touch.