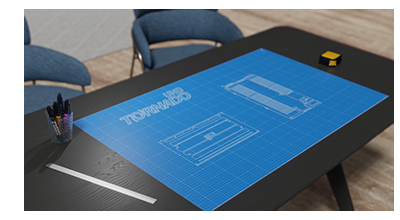 They easily integrate with your existing warehouse management system, but also operate effectively as a standalone solution.
We are now introducing the next generation of elevator machines - Tornado® UHD with the latest technology and TCPlus software.
Tornado UHD vertical lift is a dynamic storage machine that uses a totally new way to determine independent safety zones inside the machine. This enables higher dynamic motion and tray switching at the opening without the need of an inner door.
By using a new roller guided compact load handling device, the machine can operate at higher speeds while lowering the noise levels. Faster tray switching and better performance make your storage faster, accurate and efficient. Tray switching allows machine users to pick from the tray while the lift is catching the next one. This is especially efficient when using batch picking.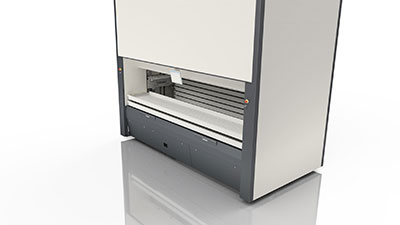 The modular design of the system enables a variety of machine widths and heights, meaning it can be customized to meet nearly every requirement. The simple structure makes this storage system reliable and low-maintenance.
It requires almost 75% less floor space compared to conventional storage solutions and can operate as a stand-alone system or as a multi-unit installation.
An intelligent control system locates the most active trays which are closest trays to the access opening for efficient picking, decreases picking errors by up to 70% and considerably reduces waiting time.
The Tornado UHD systems operates using our TCPlus software. This Windows based platform can be easily linked with your existing WMS or ERP system so that the Tornado UHD becomes an extension of your network.
TORNADO® UHD - main advantages: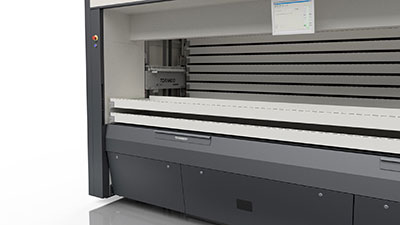 Up to 75% floor space saving
Increased speed and less noise
Two tray locations at the picking opening
Green technology - lower energy consumption
Can be used as a lift between different warehouse levels
Efficient and accurate order picking performance
Reduction in picking times
Window-based WMS system allows easy integration into existing IT environment
Tornado UHD vertical lift is a smart choice for anyone looking for a flexible combination for every kind of item storage. Not only that it is a semi-automated solution that improves the workflow in your warehouse, but the new safety features also ensure the highest level of user security.
Please Contact us if you would like to find out more about our new Tornado UHD storage machines and discover how it can change your business.