PALOMAT® is the world's leading manufacturer of pallet magazine/ pallet dispensers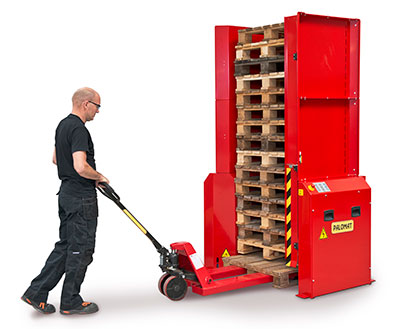 Production is based in Mors, Denmark and uses only the best suppliers of components - Siemens, Sick, SMC and Linak and each pallet magazine/ pallet dispenser leaves the factory only when it has been tested and passed strict quality assurance tests.
The first PALOMAT® was developed in 1992 because one of the owners himself suffered from back problems. This created the need for a machine for pallet handling at floor level. In this way, employees could avoid manual pallet handling and heavy lifting. Since then several basic models were developed in order to streamline and improve the working environment in workplaces worldwide.
At the cutting edge of efficiency of production, packing units, warehouses, and improving the working environment PALOMAT® develops and manufacture pallet machines/ pallet dispensers that create order and efficiency in work environments where pallets are handled. Production is based on the lean principle, which helps to maintain high quality.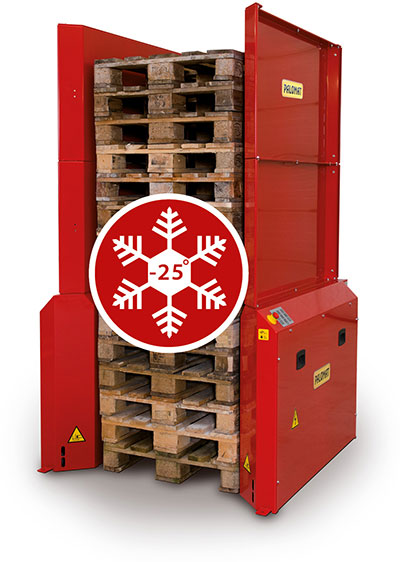 PALOMAT® is known for original innovations in work environments - both with Stand Alone pallet magazines for pallet stacking and destacking at floor level as well as the PALOMAT® Inline for integration in automatic systems and production lines. Over 12,000 PALOMATs were delivered worldwide, 1000 of which were purpose-built to the customer's specific requests.
"Our colleagues from Dexion Germany saw the added advantage this system brings to their customers so they started a partnership to supply the PALOMAT® officially.
After a year of fruitful collaboration showing top quality machines and a very helpful PALOMAT® support team we expanded our partnership in more countries and now we can proudly supply this exciting product range to our customers in Romania" said Cristian Androne, National Sales Manager for Dexion Romania.
Efficient and safe pallet flow without physical strain on your staff. Ideal for companies, who have a need for handling empty pallets at floor level. The PALOMAT® has a maximum capacity of up to 25 pallets. With the use of a simple pallet truck, the pallets are placed into the dispenser where they are then efficiently and automatically stacked. A user-friendly touch panel on the side is used to access various functions.
Automation is one of the keywords to boost efficiency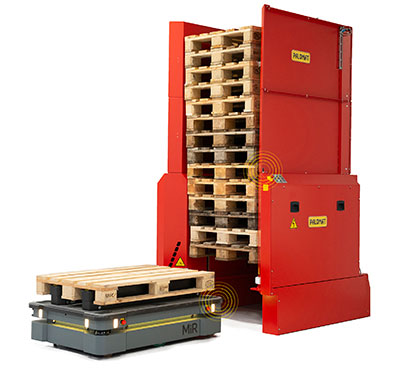 The PALOMAT® pallet magazine automates pallet handling, increases efficiency when stacking and destacking pallets, and protects employees from the unsuitable work of manually lifting heavy pallets.
PALOMAT® can become a natural part of the work flow, e.g. in production, the warehouse, the packaging department or shops – in short, any place in a business operation with a need to stack and destack empty pallets at floor level.
"Green" and eco-friendly investments are increasingly gaining attention worldwide. It is now a priority for many to reduce and completely eliminate different types of environmental impact.
We fully support this "green" movement. This is why a great part of our range is 100 % AC operated. All you need is a standard 230 V outlet and you can instantly switch to a more efficient and user-friendly pallet handling. It is as easy as "plug in and play".
The advantages of the PALOMAT®
Space saving and a tidy workplace
Optimised pallet flow
Significantly less forklift movements
Reduced pallet costs
Increased efficiency
No manual pallet handling
Less absence due to illness
Reduced time spent per pallet
Fewer back injuries, jammed fingers and feet
Leaner - increased efficiency with less resources
Product available only in selected countries. Please contact us for more information.